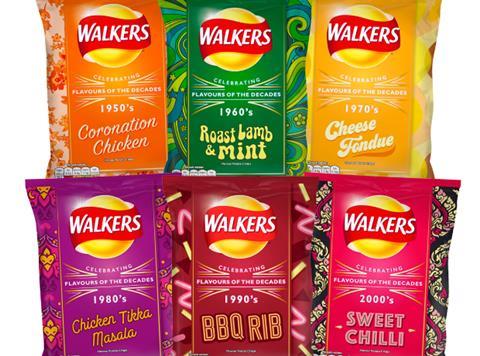 Walkers is to launch the UK's first nationwide recycling scheme for plastic crisp bags – after Royal Mail begged environment campaigners to stop posting used packets to the snacking giant.
The new initiative will kick off in December, with full details to follow ahead of time. It will encourage shoppers to either drop off their bags at one of hundreds of public access collection points across the UK, or post them for free directly to TerraCycle for recycling.
Collected packs would be "cleaned, shredded and turned into small plastic pellets, which will then be converted into useful plastic items, such as benches and fence posts" said Walkers. Crisp packets are technically recyclable, the company added, but "the issue until now has been that they weren't being separated or collected for recycling. Walkers' investment is making this possible for the first time."
The snack supplier's owner, PepsiCo, shared "people's concerns about the amount of plastic in our environment and are working on a number of both short and long-term solutions to reduce the impact of our packaging" said general manager Ian Ellington.
"Our new Walkers recycling initiative starts to tackle this issue right now by repurposing used crisp packets to create everyday items such as plant pots and benches. We hope people will embrace this idea and join us in ensuring crisp packets are recycled."
TerraCycle Europe general manager Laure Cucuron added: "We hope other snacks manufacturers will follow suit, by investing in new ways to reduce the amount of packaging that goes to landfill and incineration."
Walkers' announcement comes after the Royal Mail urged anti-plastic protesters to return empty crisp bags that weren't in an envelope. Driven by a petition on campaigning website 38 Degrees, people had been putting Walkers' freepost address on their packs and then posting them.
A spokesman for the Royal Mail, which is obliged by law to deliver the bags, asked people "not to post anything into the postal system which is not properly packaged".
"Crisp packets can't go through the machines; they are not normal mail items. Therefore, my hard-working colleagues need to manually sort them, which adds to time."