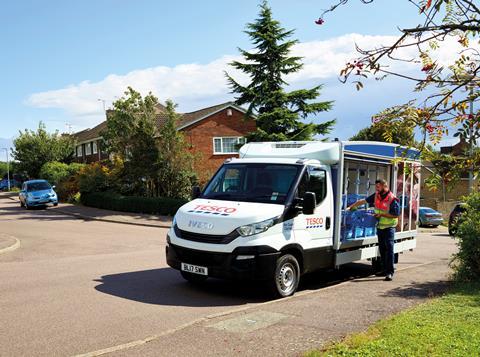 Tesco's anytime saver plan costs about £2 per home delivery. That includes a choice of same-day, hour timeslots. For this fee, Tesco picks the order, packs it, delivers it in multi-temperature vans, makes and highlights substitutions. Simply deducting wrong substitutions from bills, often without returning them, opens up a leakage issue that outweighs the £2 fee all on its own.
And still, online grocery shopping has fallen back from its covid highs of 15% to only 10%. This reversal has left major chain retailers in a catch-22 situation. Perhaps online grocery will be the future, but the pace of the transition is causing death by a thousand cuts.
While retailers must drive current shoppers to online to make it pay, they risk leaving stores as a diluted, less profitable format. Cost-cutting has made stores a less fulfilling and even frustrating experience for shoppers, who don't just switch to the low-to-no-margin home delivery route but also try different retailers.
The checkout is a case in point here. Retailers have closed manned tills, nudging shoppers towards self-scan where space is increased. Self-scan is no longer the preserve of the single basket – the full-trolley primary shoppers are now lighting up the red bulb alarms, repeatedly grinding those queues to a halt.
The checkout was the last place where shoppers in-store had interaction with a human, and it has now become a painful choice of which queue to join for many. They know also they are subsidising those who choose home delivery and, just to rub it in, they fight for aisle space with preoccupied staff picking for online orders.
Online is not becoming more profitable and in-store experiences are proving more frustrating. Both routes to the consumer are now diluted and less profitable.
Shoppers have had enough: "I'm not using Waitrose anymore, it takes forever to pay. Why would I pay more pay more for a worse service?" is one quote I heard from a lady who had switched to Tesco delivery with in-store top-up in M&S. Incidentally, M&S has not expanded self-scan in its larger stores nearly as aggressively, and is now taking a bow for its stellar performance.
Even more obvious in the strategic landscape is that Aldi and Lidl are right not to have invested in the dotcom channel and self-checkouts. Instead, they train staff to speed up the tills. So, when you are next waiting in the self-checkout queue watching the alarms light up, consider how alarming it is for the mainstream retailers how often Aldi and Lidl get it right.