This feature is part of The Grocer's Green Issue, read the digital edition here.
Some might say Magway is rather ambitious and a little futuristic," says co-founder and commercial director Phill Davies.
He's not wrong. Magway's aim is to establish a nation-spanning network of 'delivery pipes' running alongside motorways and under cities between distribution centres and urban hubs, through which it will fire thousands of tote-sized pods carrying groceries and packages.
Davies says Magway is undoubtedly a "bigger picture idea" but "this is exactly what is needed right now". His aim is ambitious: to take thousands of pollution-emitting vans and lorries off the roads for good. "We don't need empty promises, and 'business as usual' won't cut it," he adds.
Indeed, business as usual has seen van traffic almost double in the past 25 years, according to the Department of Transport. HGVs are doing 13% more miles than the early 1990s.
Food deliveries are a factor in that growth. Urban last-mile delivery emissions are on track to increase by over 30% by 2030 in the top 100 cities globally, according to the World Economic Forum.
It's an issue that needs to be tackled from a health perspective, as well as an environmental one. Public Health England has dubbed fume-filled air "the largest environmental risk to public health in the UK".
So everyone involved in the last mile is having to think carefully about how to cut their emissions – whether through moonshot ideas like Magway, or smaller ones that can effect change here and now.
Cargo pods
For their part, the supermarkets are largely making evolutionary, rather than revolutionary changes. All the major mults have made carbon reduction commitments as they aim to be 'net zero' by 2050 at the latest. That means making their distribution networks as green as possible.
Asda's latest initiative shows how small changes can make a big difference. In August, it rolled out a redesigned cargo-carrying pod to 25 of its home delivery vans. The pods are built on to standard van chassis, but are lighter, larger and more streamlined than standard cargo holds.
The Asda vans with cargo pods can carry the same weight of goods in two journeys as a traditional supermarket vehicle delivers in three.
"The beauty of what we've developed is that we can help to tackle all of the issues affecting facing last-mile logistics fleets, namely: reducing carbon footprint, driver shortages, tighter legislation, the transition to electric vans and, today more than ever, increasing customer demand," says Daniel Hurcombe, MD of Penso, the UK firm that designed and built the pods.
Furthermore, each carbon fibre pod is insulated with material made from 5,000 recycled plastic bottles. And at the end of the pod's life, more than 95% of it can be recycled. So the solution is green all round.
Ocado similarly proves even tiny adjustments can pay carbon dividends. The online retailer claims its policy of limiting its LGV fleet's top speed to 55 mph saves 574 tonnes of carbon a year. CEO Tim Steiner also claims online food deliveries, unlike online retailers such as Amazon, reduce total journeys, and "the more online shopping grows, the routes become more efficient because the density of deliveries increases".
Fleet management solutions provider Trakm8 is among those helping supermarkets to slash unnecessary miles.
Working with Iceland, Trakm8 cut fuel costs by 10% by optimising driver drop-offs. In a benchmarking exercise with another retailer, Trakm8 found route optimisation could deliver a 5% mileage reduction and a 2% improvement on average drops per hour.
Slot steering
It's primarily a mathematical challenge, made more complex when shoppers pick narrow windows for deliveries. But there are ways of getting customers to opt for a more helpful window.
Some supermarkets are engaging in what is known as 'slot steering'. It is in essence "the practice of nudging local clusters of customers towards delivery slots at around the same time", explains Matthew Newman, enterprise sales manager at Trakm8.
Shoppers might be offered lower delivery fees if booking slots when a van is going to be nearby, or be alerted that certain slots are better for the environment. In Ocado's case, slots are marked by a green van symbol on the booking page.
"This allows them to time their delivery to when an Ocado van is already in their local area, helping reduce overall van mileage and emissions between delivery drops," a spokeswoman says. Sainsbury's green slots work in a similar way.
"The rollout of 'slot steering' enables drivers to cover a smaller distance, while dropping off at a greater number of properties. They drive less, but can deliver more," Newman says.
That's particularly helpful at a time when online delivery is growing exponentially. The pandemic has seen thousands of households turn to online grocery for the first time. Online accounted for 13.5% of total grocery sales at its height this year, before levelling out at 12.5% in September, according to Kantar.
While the additional deliveries may seem bad for the environment, those made from a nearby supermarket emit less greenhouse gas than the consumer driving there, according to a recent Unilever-backed study. Goods delivered from large, distant distribution centres may generate more. But there are countless contributing factors.
The researchers were more confident in saying consumers could reduce the impact of online shopping "by forgoing fast delivery".
Electric dreams
Still, there is hope on the horizon for those who want to provide a speedy delivery at a lower environmental cost: electric vehicles. These are still a way off. As Hurcombe puts it: "It doesn't matter whose fleet you look at today, 99% is still diesel."
He's confident that will soon change. "We all know electric's the future," Hurcombe argues. Moves by the mults suggest they share that view. In April last year, Sainsbury's became the first UK supermarket to trial electric van technology for home deliveries. Two electric vans – Evie and Stevie – are at work, with plans for more.
Their engines are more efficient than combustion ones and, while they obviously need to be charged up, the UK is getting ever more of its electricity from renewable sources. Crucially, they emit nothing.
Waitrose similarly sees a future in electric vehicles. In July, it announced plans to end the use of fossil fuels across its entire transport fleet by 2030.
"As well as being more sustainable and producing fewer pollutants, the vehicles also have greater carrying capacity than their diesel counterparts. In some cases, that means we could replace three diesel vans with two electric ones," a Waitrose spokeswoman says.
There are still hurdles to overcome before the mults can go fully electric. Keeping the contents of vans cold is one gnarly problem. Their range is also typically much shorter and a network of charging ports needs to be created.
So for now, others are banking on a different type of electric vehicle to cut emissions. A recent Dutch study estimated 10% to 15% of trips made by delivery vehicles in cities could be readily made by electric-assisted bikes. Food deliveries by van were identified as particularly ripe for replacement.
The benefit of bikes becomes even clearer as congestion gets worse. The World Economic Forum predicts traffic congestion will rise by over 21% in major cities by 2030, adding 11 minutes to every journey. Analysis by Environmental Defense Fund Europe found London's congestion rate in September was up 153% on 2019.
"If your van is now going to spend more time inhibited by slow-moving, congested traffic, meaning you can't meet your time windows and customer expectations, you've got to move to a plan B," says David Cockrell, chief of staff at E-cargobikes.
The e-bike delivery service has worked with Co-op to deliver online grocery orders since March last year. While Co-op, with its smaller stores closer to residential areas, is a good fit for bike delivery, fulfilment from out-of-town distribution centres makes sense too, Cockrell says. A larger van would run orders to a distribution point closer to town, where they'd be met by bikes to complete the last mile. "It's an ants not elephants principle for moving things," Cockrell explains.
Nor should bipedals be ruled out of the equation. In September, Co-op partnered with startup Pinga to offer online grocery deliveries within 90 minutes to customers in the surrounds of five stores in East London.
Pinga deliveries are done mainly on foot, though bicycles and scooters play a role too. It is now only taking on walking or cycling delivery partners and is working towards 100% emission-free deliveries by next year.
It will soon be possible for grocery customers to specify that their deliveries are fully green, Cockrell says. "Consumers could drive the change quicker. If a supermarket takes the lead and says we are 100% pure eco from end to end in home delivery I think a lot of people would switch because of that. Give people the option – do you want a dirty diesel engine or the greenest solution? – it's clear which people would choose," he says.
Whichever route the industry decides to go down, it's clear that more needs to be done to make home delivery a greener proposition. As Davies puts it: "Without a significant step change, delivery traffic will continue to increase along with the levels of toxic air we breathe."
The good news is there is no shortage of innovation. So as appetite for a greener delivery system grows, solutions like Magway's may not be just a pipe dream for long.
Tesla semi
The slick electric HGV
Tesla's 'Semi' truck is perhaps the slickest-looking electric HGV.
First announced in 2017, production had been due to start this year but was pushed back. Pre-orders have been made by the likes of Walmart, Pepsi and Anheuser-Busch.
However, there is one drawback: the Tesla Semi, like other electric vehicles, has a limited range in pulling loads.
Magway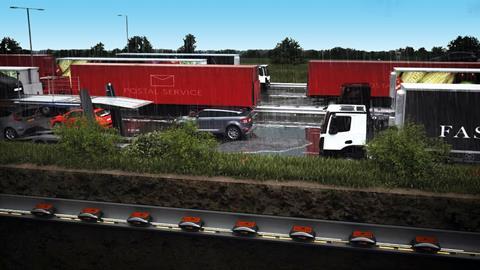 Underground 'tote trains'
Magway is hoping to establish short routes of its system between UK airports and the small DCs that serve their restaurants and retailers.
Construction of a wider network of pipes is expected to start in 2023. It's a bid boosted by a crowdfunding round earlier this year that raised £1.5m.
The tote trains use linear synchronous magnetic motors that are "energy-efficient, create zero emissions and can exploit renewable energy resources".
Co-op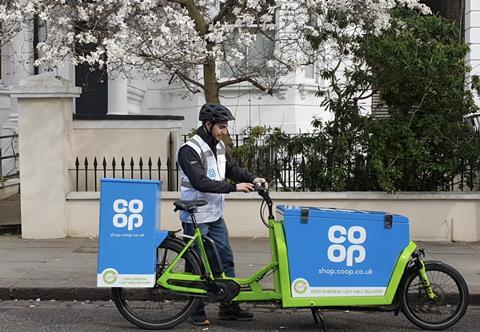 Two-wheeled electric delivery
Electric motor-assisted bikes are being used by Co-op to deliver from several stores in London. Partner e-cargobikes says its bikes can deliver the same quantity as a 3.5-tonne diesel van over an eight-hour shift, using only 0.38% of the energy.
One issue hampering their broader rollout is that route optimisation software struggles to account for the cycle lane routes riders can use.
Waitrose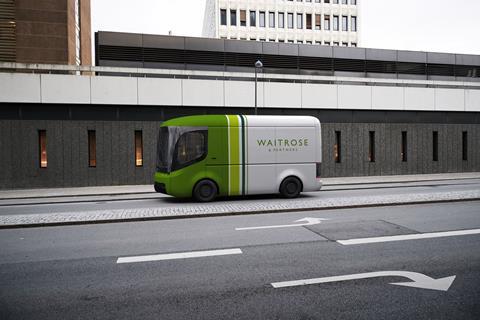 'Revolutionary' electric vans
The John Lewis Partnership has this year commissioned "four revolutionary vehicles" that will be manufactured and trialled in 2021. The electric vans will be used for Waitrose.com food deliveries and smaller John Lewis deliveries, saving more than 20,000 tonnes of CO2 a year.
The vans "reduce noise pollution in built-up areas" and promise a life of "20 years or more".
Amazon
Electric vehicle drive
In February, Amazon ordered 100,000 electric delivery vehicles from automaker Rivian. Some 10,000 will hit the roads as early as 2022, and the rest by 2030.
Amazon is also introducing 1,800 electric Mercedes-Benz vans to its delivery fleet across Europe this year. CEO Jeff Bezos said the vehicles were "part of our journey to build the most sustainable transportation fleet in the world".