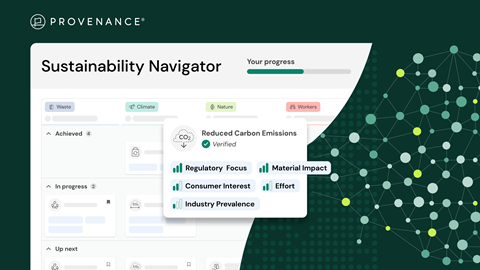 An AI-powered tool to help brands and marketers identify the sustainability strengths and weaknesses of their products has been launched by Provenance.
Sustainability Navigator audits the existing green and ethical claims made by brands, and benchmarks them against category competitors and consumer trends.
The tool – underpinned by "a robust knowledge graph with more than 1.7 million data points", according to Provenance – also provides advice on what areas of impact brands should focus on next based on what customers want, what competitors are doing, and coming regulations.
"We're able to give marketers unprecedented and unparalleled insights to help them assess and communicate their sustainability claims with integrity, whilst meeting commercial KPIs," said Alex Rahin, chief product & technology officer at Provenance.
"The technology is revolutionising sustainability communications and is fuelled by our own product-level sustainability data, which includes everything from product and brand details to certifications, ingredients, regulations and consumer behaviour," he added.
Early adopters of the first phase of the Sustainability Navigator rollout are beauty brands Bioeffect, Kinship, Sana Jardin and Cultured.