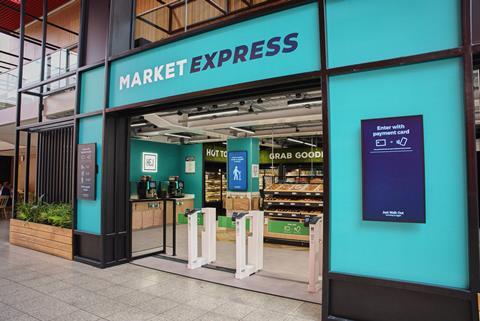 A convenience store at the ExCeL centre has adopted Amazon's Just Walk Out technology, making it the first UK venue to offer the e-commerce giant's frictionless, checkout-free shopping.
The 'Market Express' store was launched this week by the London events space and its long-standing catering and hospitality provider, Levy UK & Ireland.
The frictionless format sees customers tapping their payment card or mobile wallet on an entry terminal, which opens a barrier and allows them access to the store. They then pick their items from shelves and leave when finished.
The store offers a range of hot beverages, hot meals to go, bakery items, salads, sandwiches, and chilled drinks. Snacks are also available, along with items such as medical supplies, toiletries, reading glasses and umbrellas.
"We're thrilled to collaborate with London's largest event venue," said Jon Jenkins, VP of Just Walk Out technology by Amazon, "to introduce the first checkout-free store within an event space in the UK, and we look forward to providing patrons a frictionless shopping experience with Just Walk Out technology."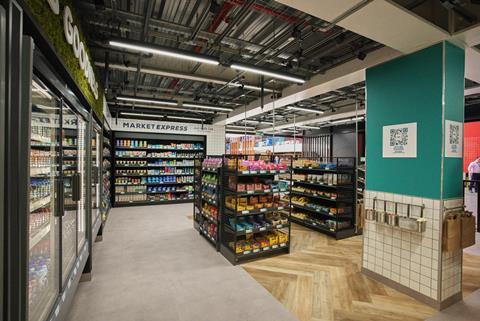 As well as in its own Amazon Fresh stores, Amazon's checkout-free shopping technology has been adopted by several retailers, including Sainsbury's, which launched a 'Just Walk Out' powered store – called SmartShop Pick & Go – in Holborn, London in late 2021.
WH Smith also uses Amazon's technology, launching a checkout-free store at New York City's LaGuardia airport early last year.
Amazon has been reconfiguring its Fresh stores to remove entry barriers, instead requiring customers to tap their payment card or app on exit.
Stadium hospitality firm Levy UK&I last year launched a checkout-free, small-scale store at Leicester City's King Power stadium, which sees fans tap their payment card on entry, pick up items and walk out. The company partnered with 'Just Walk Out' rival AiFi – which also powers Aldi's checkout free store in Greenwich – to provide the underlying technology.
"With some 400 events and four million visitors every year, we are constantly looking at ways to further enhance our customer journey," said Simon Mills, chief commercial officer at ExCeL. "We can now provide a better, faster experience using proven safe technology, allowing more time for visitors to network, learn and trade around their event."