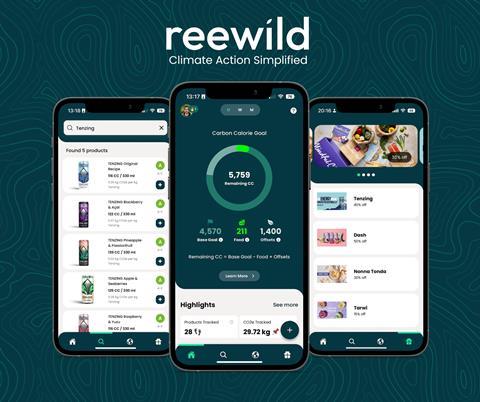 An app has launched that provides users with the carbon footprint of millions of supermarket products, recipes and ingredients, which can be accessed via an in-app search or scanning barcodes.
Items shown in the Reewild app carry a traffic light rating from A to E denoting its impact on the environment, and a unique 'Carbon Calorie' value.
To help enable a low-carbon diet, users receive recommendations for alternative, greener products and after lowering their footprint can access exclusive discounts and promotions from sustainable brand partners, such as Mindful Chef, Dash, Tenzing and Coco di Mama.
"We very much believe it has the potential to go mainstream," Reewild CEO Freddie Lintell told The Grocer.
"We're creating an engaging and empowering platform, which makes the overall experience of becoming more sustainable entertaining – something people want to share and compete in with others. In other words, we're aiming to do for climate action what other successful apps such as MyFitnessPal and Strava have done for calorie tracking and exercise monitoring," Lintell added.
Over the coming weeks the company plans to add more features to the app, including "AI integrations, and enhanced gamification to drive more engagement".
This will include challenges, badges, rewards, league tables, and monetary incentives.
There are several apps that work to more clearly score the health or environmental impact of supermarket products. Among the largest in Europe is Yuka, which is focused on the healthiness of branded goods and beauty products. Others have emerged which focus on environmental impact and carbon.
Their influence comes from being a trusted third party not linked to a retailer or brand, and with no angle on the data displayed. According to a YouGov survey, when asked who they trust most to publish data on a company's ethics and emissions, most people said a third party.
Poorly scoring brands have threatened legal action against them in some cases. But more have worked to change their ingredients to achieve a better rating.
"Knowing you have a high-impact rating and why it's high is the first step towards improving it. For many businesses it's also about future-proofing themselves," Lintell said.
"You'd be surprised how many businesses are already doing great work with their carbon accounting. There is still much work to do, but we see our solution as another tool to incentivise businesses to reduce their emissions, take climate action and accelerate the transition to a net-zero economy."
The app is planning a marketing drive, which will include community building and influencer endorsements. The app is also being offered as an employee perk to large enterprise clients.
"This not only helps them to drive climate action and empowers their workforce to live more sustainably, but also helps reduce their employees' Scope 3 emissions," Lintell said. "For us, it enables rapid user base expansion while incentivising sustainable food and drink brands to work with us, in order to tap into these consumers."