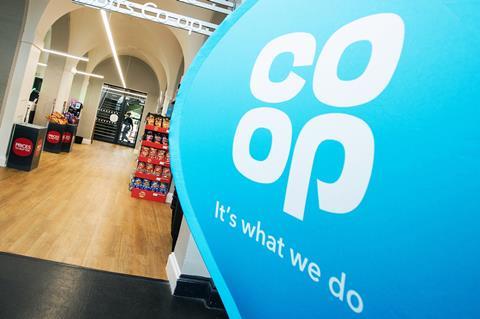 Co-op is rolling out overhauled IT systems to more than 2,600 of its stores. The systems promise to improve the planning and allocation of space in stores, increase availability, reduce waste and improve collaboration throughout the supply chain.
It is the latest phase in a four-year programme, started in 2018, which has consolidated more than 30 legacy systems into three. Following a 217-store pilot, the updated systems are now being extended to thousands of locations, as well as more than 1,300 stores operated by independent co-operative societies.
The overhaul would enable it to "respond more quickly through enhanced forecasting and replenishment processes" while improved inventory management and the ability to offer more locally tailored ranges would "enhance the customer experience" it said.
"The first phases of our work provided the foundation for an advanced retail supply chain strategy designed to drive increased consumer experience and choice through improved availability and faster, better, retail decision-making," said Andy Phelps, Co-op's retail business transformation programme director.
"The improved data, transparency and collaboration facilitates the anticipation of shopper needs, providing a robust mechanism with which to respond with agility, accuracy and speed – enabling Co-op to provide what our customers want conveniently, when and where they need it," he added.
Suppliers would benefit from "greater transparency, data flow and forecasting" to make production decisions, the Co-op added.
Suppliers are being brought onto the new platform category by category. The paperware category will migrate this year, with pizza and salad categories expected to follow. The rollout will continue until next summer, when it is expected to include over 19,200 products and more than 1,100 suppliers.
"We see our relationship with suppliers as a partnership approach, and this investment enables Co-op to deepen those relationships," Phelps said. "We have worked closely with our supplier network to gather feedback and test the system, and their input has been invaluable in developing the technology we are now in a position to deploy."
Among the suppliers involved in the pilot phase of the overhaul was Kimberly-Clark.
"We now believe that with the deployment of its JDA systems, the Co-op has the ability to tailor customer and store assortments as well as anyone else in UK retail," said the company's head of sales Gwyn Rosser.
"By combining this with SAP, the Co-op has now extended their excellent ability to range, to their ability to accurately forecast and replenish," Rosser added. "This combination makes them not only an incredibly efficient trading partner, but also very exciting one in terms of future potential."
The Co-op's "transformational IT programme" commenced two years ago, with the retailer introducing JDA supply chain software and ranging tools to build a "more precise picture of local customer behaviour so it can tailor its store layouts and better anticipate demand".
SAP systems followed, to improve ranging, stockholding, availability, and more accurate forecasting information. The most recent move has been the introduction of a new cloud-based supplier collaboration portal, Co-op Connect.