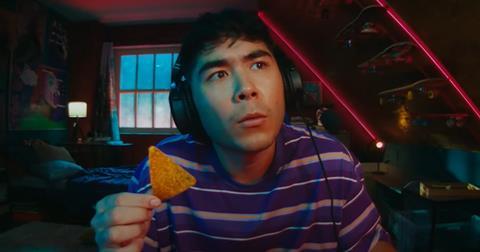 Doritos has launched 'crunch cancellation tech' which gamers can download to remove the sound of their mastication in real time so other players aren't distracted.
Doritos and PepsiCo's in-house agency, Sips & Bites, this morning launched the 'Doritos Silent' experience, which it dubbed "the world's first AI augmented snack".
Gamers can download the software – developed with software house Smooth technology – for free. The software splits the user's voice from their crisp crunching, only allowing the former to be "sent down the microphone".
The software took six months to develop, and involved the "technical analysis of more than 5,000 different Doritos crunch sounds" to create a database. AI is used to identify and separate speaking from crunching in real time.
"We know that the nation loves the satisfying crunch of Doritos, but listening to someone else enjoy them can be off-putting, particularly when concentrating while gaming," said Doritos senior brand manager Karina Stoltz. "This concept isn't a gimmick – it's the real deal."
Doritos-commissioned research last month found 86% of gamers snack while playing. Doritos were found to be the most popular salty snack to eat while gaming. However, a third of gamers claimed the sound of someone snacking frustrated them when playing, and one in five gamers said the sound made them want to log off, with crisps identified as the worst audio culprit.
"The launch not only solves a genuine consumer tension, but helps to cement Doritos as a top choice for gamers," the brand said.
The launch has been proceeded by an OOH campaign with billboards in Piccadilly Circus, Hackney, Liverpool and Birmingham teasing the launch of a new Doritos product with the tagline 'You won't hear it coming'.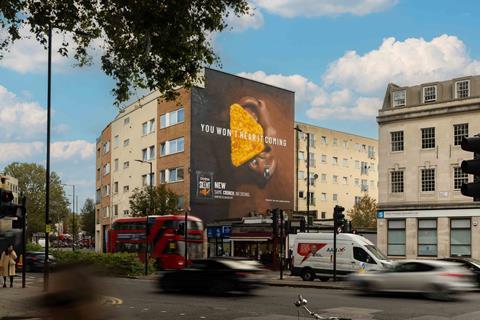 A digital and social media campaign revealed the product, signing off with the tagline 'Game On, Crunch Off'.
"What we loved is how the concept is so intriguing to people. How on earth can you silence the iconic crunch of a Dorito?" said Matt Watson, executive creative director for Sips & Bites, at PepsiCo. "It's this immediate curiosity that was the spark behind our big idea as we teased a new Doritos Silent 'product"'. People immediately asked 'what?' and 'how?' and the disruptive image of an actual Dorito in an ear escalated the buzz, before we revealed it to be the world's first AI Augmented Silent Snack."
"By silencing one of our biggest assets, we made it even louder," he added.