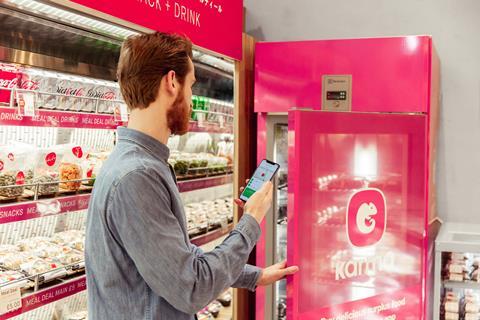 Food waste app company Karma plans to install 50 of its surplus food smart fridges across London and beyond by the end of the year. The UK's first Karma fridge went live this month at Japan Centre Ichiba in Westfield Shepherd's Bush.
The smart fridges – of which there are more than 30 in operation across Sweden and one in Paris – are filled with surplus and unsold food from either the store they are situated within or from wholesalers when placed in public places.
Users can buy the discounted food via the app and use their smartphone to unlock the fridge and access their purchase.
The UK's first Karma fridge, designed in collaboration with Electrolux, which has invested in the Swedish startup, will make it "easier for Ichiba to sell food not bought before the end of the working day" to consumers, the company said.
"We know Ichiba customers, and Londoners in general, are avid foodies, digitally savvy and environmentally conscious, so it's the perfect home for the UK's first-ever Karma fridge," said Karma CEO and co-founder Hjalmar Ståhlberg Nordegren.
The company is also working with Oatly and Unilever to supply fridges in public places with surplus wholesale stock.
"Finding solutions that promote a more sustainable way of consuming food is part of our company ethos," said Tak Tokumine, CEO at Japan Centre Group.
"For us, the partnership with a startup like Karma, who are experts on food waste, is a powerful way of making an impact on the food industry."
A pilot in 2018 at an ICA Kvantum Liljeholmen store in Stockholm saw a 30% uplift in sales of surplus food that would otherwise be wasted.
Karma claims to have a million users and 6,700 businesses listing items on the platform. Since its launch in November 2016, Karma has saved over 750 tonnes of food and 1,000 tonnes of C02, the company says. It's ambition is for 100 fridges to be across Europe by 2021.
The Karma app – which connects users with stores and restaurants with surplus food for collection direct rather than via the fridge – launched in Sweden in 2016. Karma claims it is now used by 5% of the Swedish population. In 2018 it entered the UK market and launched in France last year. In the UK it faces competition from apps Too Good To Go and Olio.
As well as primarily London-based independent bakeries and restaurants, chains including Black Sheep Coffee and Holland & Barrett also list items on the app.