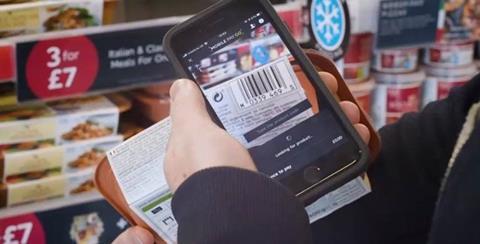 M&S shoppers will be able to use its smartphone app to pay for their shopping at all 573 of its UK branches by Friday (13 November), up from 310 stores in July.
This comes as part of the upmarket retailer's push to become more omnichannel and offer customers contactless shopping options through the coronavirus crisis.
M&S will also increase its payment limit from £30 to £45 as part of the move.
Mobile Pay Go, which is housed in the M&S app alongside its Sparks loyalty scheme, allows customers to pay for groceries without the need to visit a till. Users scan the barcodes of products they wish to purchase before paying through the app with the card they have saved on it.
M&S is encouraging shoppers to make use of the technology with additional décor and point of sale signage, as well as an instructional video on its website, emails to its eight million Sparks loyalty cardholders and prompts on its social media channels. It is also running an incentive scheme whereby customers can refer a friend to the app. Once they sign up, both parties receive £1 off their next Mobile Pay Go purchase.
The technology has attracted around 20,000 new regular users since March.
The expansion comes alongside M&S introducing a reserved shopping slot scheme to all 566 standalone Food Halls and branches containing a Food Hall at the beginning of the month. The retailer has also hired around 400 new permanent employees at its Castle Donnington, Leicester distribution centre since July, and is recruiting 500 seasonal staff to help it cope with Christmas demand.
"We want to help our customers shop with confidence – especially as we head towards Christmas – and that's why we've accelerated the roll out of Mobile Pay Go to all our UK stores," said Helen Milford, stores director at M&S. "With the current restrictions in place, making shopping as easy and efficient as possible is really important to us and to our customers. Mobile Pay Go helps do just that – it's quick, contact-free and means fewer queues at our checkouts."