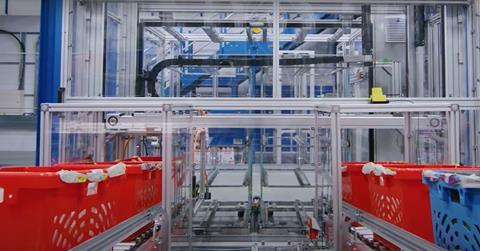 Ocado Group is to acquire US robotics startup Myrmex to accelerate the rollout of 'automated frame loading' across its CFCs globally.
Ocado acquired a minority stake in Myrmex in October 2020, appointing it to design and develop a proprietary solution to automate the loading of totes containing customer orders on to wire frames ready to be loaded into delivery vehicles.
Its solution was unveiled in January, promising to "lower labour costs" and boost "higher productivity per employee". The solution will be going live in Ocado Group CFCs later this year.
Myrmex's technology "also has potential applications for in-store locations, specifically for automating the grocery order pickup process" Ocado said.
The acquisition – the terms of which have been agreed – is expected to complete by 6 June this year. The value of the deal is €10.2m.
"We've been impressed with Myrmex's capabilities and their ability to design, develop and bring to market bespoke solutions," said James Gralton, chief engineering officer at Ocado Technology.
"The collaboration led to the launch of automated frameload in a little over a year. This acquisition is another important step on our automation journey and provides an opportunity to further grow and expand our engineering presence in southern Europe as we continue to invest in developing Myrmex's technologies for the Ocado Smart Platform," he added.
Myrmex was established in 2015 in the US with its research and development centre in Athens, Greece. It says its hardware and software are applicable to dark stores, click & collect and pick-up points, and can "facilitate the last-mile functions".
A team of more than 30 people from the startup with expertise in automation hardware and software will join Ocado Technology's 2,500-strong team of technologists.
"Over the last 20 months, we've been impressed with Ocado Group's disruptive products, pioneering technology, visionary leadership and talented people," said George Katiniotis, CEO at Myrmex.
"I am proud to see our intellectual property and brilliant engineering team recognised by the global leader in online grocery and am excited about the journey ahead of us," he added.