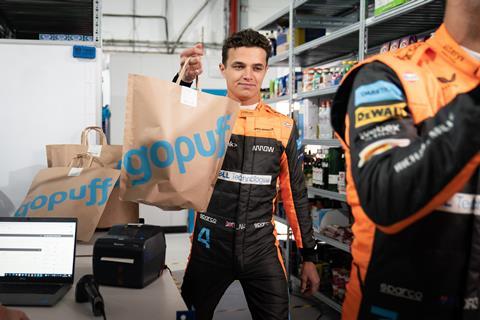 Rapid grocer Gopuff has launched an advertising platform in the UK to "collapse the marketing funnel from impression to consumption in 30 minutes".
Brands can choose various marketing options, including promoted product placement, sponsored search, sponsored carousel, and in-app and email display ads.
The Gopuff Ads Platform launches in the UK today, following local trials by beverage group Suntory and non-alcoholic beer brand Days Brewing.
It launched in the US two years ago, where it has been utilised by "the world's largest CPGs and most exciting emerging brands" Gopuff said, among them PepsiCo and Liquid Death. The platform saw a more than 110% increase in revenue from 2021 to 2022.
"As we continue to grow and innovate in the retail media space, we're thrilled to introduce Gopuff Ads, a platform that has powered four times return on ad spend for our US advertisers, to brands reaching UK customers," said Daniel Folkman, senior VP of business at Gopuff.
The platform also allows brands to mount highly targeted instant sampling campaigns – for example for mums in north London – where items are added for free onto orders and arrive with additional marketing inserts.
Gopuff said the platform gave brands the opportunity to reach a "unique and coveted customer base, including millennial and hard-to-reach gen Z shoppers".
The platform is enabled by CitrusAd allowing users to "seamlessly plan, buy, measure, and manage their ads" on the Gopuff app.
"The quick grocery market is evolving fast and it's exciting to be a part of this momentum," said Alban Villani, EMEA CEO for CitrusAd.
"Retail media offers e-commerce companies like Gopuff an opportunity to grow their revenue streams, as brands look to engage with customers looking to make instant purchasing decisions and who are open to impulse buys," he added.
Gopuff has also expanded its partnership with Rokt to enable non-endemic brand advertising at checkout.
"With Rokt, UK brands beyond CPGs, such as streaming and entertainment, and financial and credit card companies, can reach Gopuff's unique customer base with relevant campaigns," Gopuff said. "In the US, this capability has powered a higher-than-average engagement rate of 5%."
Several rapid grocery players have launched advertising platforms to secure additional revenue for their cash intensive operations.
Last April, Zapp launched "full-service advertising platform" Zapp Media Services for supplier brands, giving them the option to create co-marketing campaigns across Zapp's owned channels such as in-app, social media, customer email and push notifications and OOH and other external ad campaigns.
Deliveroo launched Deliveroo Media and Ecommerce last summer, with advertising space available on the app's order tracking page, as well as sponsored search listings and product sampling campaigns.
Several supermarkets have made major moves into advertising, launching their own media platforms in recent years to tap a rich new revenue stream.
While typical retailer margin on food and drink products averages at less than 5%, margins can be as high as 80% on media advertising, according to Boston Consulting Group. Goldman Sachs forecasts the UK grocery retail media market value to reach £2bn by next year.