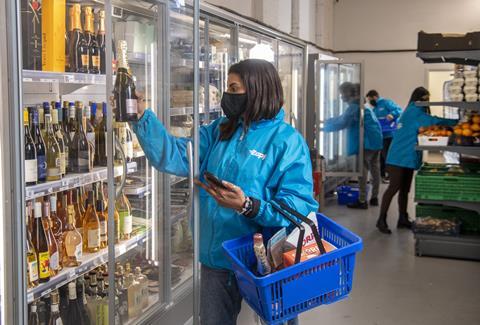 Rapid convenience delivery app Zapp has launched a "full-service advertising platform" for supplier brands, so they can make use of its marketing channels and sales data.
Zapp Media Services gives brands the opportunity to create co-marketing campaigns across Zapp's owned channels such as in-app, social media, customer email and push notifications and OOH and other external ad campaigns.
"These campaigns give brands full visibility and exposure to Zapp's fast-growing customer base," the company said.
The rapid grocer's new service includes campaign planning, creative development and execution and can also offer "round the clock and hyper-local data on what time of day and what location products perform best".
Zapp Media Services will also work with brands on product trials and Zapp-first exclusive product launches.
"We've already seen significant appetite from our brand partners to innovate with Zapp to engage our growing customer base," said Alex Hough, VP of procurement and partnerships at Zapp.
"Brands want to deliver marketing campaigns with Zapp that leverage our unique offering of 24/7 delivery, our premium product range and our increasingly loyal customer base. We're now able to offer brands the ability to deliver high-performing connected co-marketing campaigns that tap into specific shopper missions and reach new audiences more directly and faster than ever before," he added.
The service is powered by Threefold, a commerce media agency which works with retailers including The Very Group, Co-op, Boots and Signet.
"Zapp has a truly unique proposition in the fast-growing q-commerce sector that is highly attractive to brands," said Lee LeFeuvre, MD of Threefold. "With its fast-paced growth, unique customer offering and strong brand equity, we're thrilled to be partnering with Zapp to open up its marketing platform to supplier brands."
Zapp launched in late 2020 with a single 'Zappstore' in west London, and now operates dozens of micro-fulfilment centres across the capital. The company's focus is on convenience 'mega cities', it said, such as London and Amsterdam, where it also has a presence.
Its longer-term mission is to "build an entirely new supply chain that can deliver thousands of different products to hundreds of millions of customers around the world faster and more sustainably than any other supply chain can today" it said.