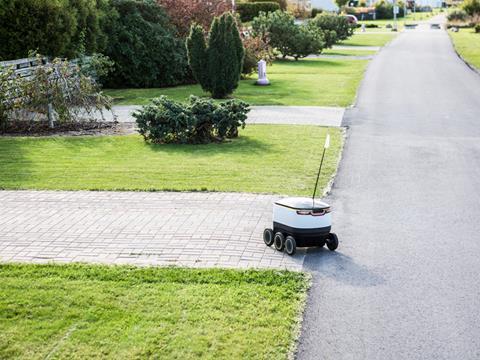 The co-founders of Skype are to launch a fleet of robots to improve the local delivery of goods and groceries.

Starship Technologies is expected to launch the robots, which can carry two grocery bags and complete local deliveries within five to 30 minutes, in 2016. They run on electricity and are rechargeable.

It is testing and demonstrating the prototypes, with plans to launch the first pilot services with partners in the US, UK and other countries.

Starship's technology aims to end the expensive and time-consuming door-to-door delivery. Retailers will be able to ship goods in bulk to a local hub and then the robot fleet will be able to complete the delivery.

Customers can choose from a selection of short delivery slots and during the delivery can track the robot's location through a mobile app. On arrival, only the app holder is able to unlock the cargo.

"Our vision revolves around three zeroes - zero cost, zero waiting time and zero environmental impact. We want to do to local deliveries what Skype did to telecommunications." said Ahti Heinla, a Skype co-founder and CEO at Starship Technologies.

"With e-commerce continuing to grow, consumers expect to have more convenient options for delivery - but at a cost that suits them."

The robots have integrated navigation and obstacle avoidance software, move at four miles an hour and are intended to travel on pavements.

The news comes in the same week Google entered the so-called 'drone wars'. The technology giant is battling with Amazon to become the first to use the drones to deliver packages. Google has revealed it is looking to launch drone deliveries in 2017.

Meanwhile, craft cider company Orchard Pig is looking to launch its own drone delivery service and is testing its 'flying pig' drone.