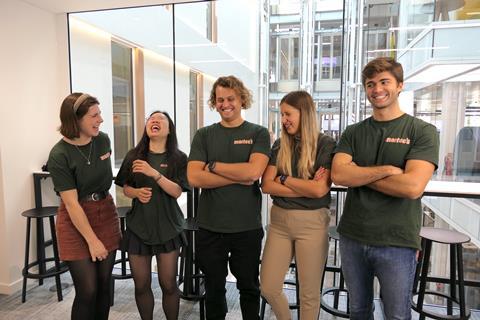 Unmanned, self-serve convenience store concept Martee's is running a pilot with the world's largest workspace network IWG, and has launched a pre-seedfunding round.
The pilot sees one of the start-up's 'micro markets' placed in a coworking space in Baker Street, with the hope the trial will lead to a larger deal.
The new store joins nine others opened over the last five months – in both coworking spaces and hospitals – and a further launch with a "new transport hub" provider is imminent.
The company – cofounded by a former rapid grocer Weezy employee and ex-CEO of meal kit brand Plateaway – is now seeking to raise £800,000 to invest in building out its data and technology capacity, with a target of 50 stores by the end of next year.
Having launched with a mission to "apply modern technology to the old-school vending industry" with a focus on city centre workspaces, Martee's said it was now taking a "more holistic view on the nested store model" and placing its stores "in places retail usually struggles to reach".
"There are tonnes of amazing food brands in London whose football has completely fallen off the map, and they want new routes to consumers. Equally, there are tonnes of consumers who aren't going to city centres every day anymore," said Lucy Adams, Martee's co-founder and COO. "So where can we put a Martee's machine that will enable those brands to connect with those consumers?"
The most successful Martee's sites are proving to be "places where there's just a bit of a food desert for whatever reason and people want great food", she added. "We're interested in transport hubs, universities, hospitals, all these kinds of places that aren't actually in the city centre, but a little bit further afield, because people buy food differently now."