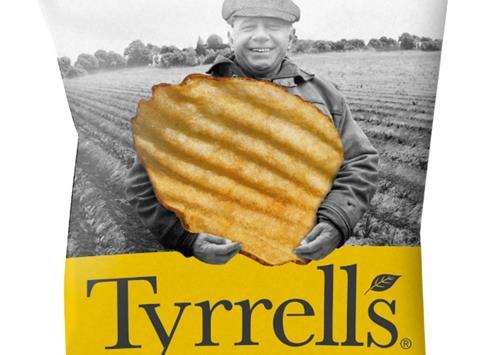 Tyrrells has fallen victim to a bagged snacks overhaul at Tesco, which has seen 17 of the brand's 23 crisps and popcorn SKUs vanish from the supermarket's shelves.
As well as dropping 13 out of 19 Tyrrells crisps lines – 68% of its presence in the segment – Tesco no longer stocks any of the brand's popcorn, having delisted four SKUs [Brand View w/e 25 October 2017].
Tyrrells declined to comment on the changes by Tesco, which over recent weeks has put greater focus on healthier, premium and own label bagged snack options – especially in the crisps segment. The retailer has added a raft of posh potato alternatives, including chickpea, quinoa, bean and fruit variants from the likes of Eat Real, CoFresh and Urban Fruit. It has also ramped up its own-label lines, including 10 premium snacks for Christmas.
Tesco's changes were nothing out of the ordinary, said a spokesman for the grocery giant. "We frequently review our ranges to ensure they meet the needs of customer and continue to offer a wide range of crisps and snacks, including a number of healthier options."
However, it is further bad news for Tyrrells, which earlier this month announced it had seen profits almost halve in the period of its £300m sale to Amplify Snack Brands. The first year-on-year figures since the acquisition in August 2016 showed operating profits fell 45% in the 39 weeks to 31 December 2016 as deflationary conditions and exceptional costs hit the bottom line.
In August, Amplify lowered its earnings and sales forecasts for 2017 partly because of the "disappointing" first-half performance of Tyrrells in the UK – having shaken up the brand's management team in May, with former CEO David Milner and ops director Stuart Telford leaving the business.