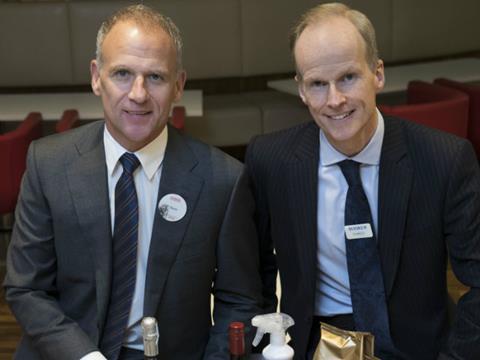 The announcement just over a year ago that Dave Lewis and Charles Wilson had been secretly hatching plans for a £3.7bn megadeal lifted the lid on one of the business world's best-kept secrets.
In contrast, today's news that Booker boss Wilson is to become Tesco's new UK CEO, as number two to Lewis, comes as no surprise to most experts. But it could have almost as much impact on the long-term future of Tesco, as the deal approaches its next D-Day.
Sadly for Matt Davies, the man who will make way for Wilson, his war is nearly over.
The man from Pets at Home and Halfords, whose appointment was far from universally greeted at the time, has done a solid job leading Tesco's UK stores back from the brink in the past three years. Crucially, he made sure Tesco concentrated on its core retail issues of service, availability and quality.
His management style, including weekly blog pep talks to Tesco's thousands of staff about the importance of their Every Little Helps, had its detractors. But Davies went more than a little way towards helping reinstall a real belief that Tesco should put its customers at the heart of its businesses.
Yet the confirmation that Wilson will be the man to steer the UK business through the momentous weeks and months ahead means the UK's biggest retailer has, with the greatest respect to Davies, someone in a different league at the helm.
Pitfalls and perils
In Wilson, it has someone with the calibre to make the jump from those years of recovery and consolidation into a brave new world of expansion, in which the rewards could turn out even higher than Tesco has set out. Nobody knows more than him about the pitfalls and perils, as well as the opportunities, that new world has to offer. He brings such calibre to the table to suggest he could handle the Booker transition without Tesco having to take its eye off the ball elsewhere in its empire.
Tesco had already revealed that Wilson would sit on the Tesco board and the new combined group executive that will lead the merged group, all things going to plan.
For his new job Wilson, whose stake in Booker is worth upwards of £220m, will get a salary of £575,000, but with bonuses and share incentives potentially taking that well over the £2.5m mark.
He will have to earn his money, though, starting with a crucial double vote of shareholders on 28 February. For the merger to be approved, Tesco's shareholders must give a 50% majority, while, two hours later, Booker will require a 75% vote from its shareholders for the deal to proceed.
With its prospectus being published this afternoon, however, Tesco is building a strong case that shareholders should have faith in its management to deliver the numbers. It has indicated it expects to make £1.57bn operating profit before exceptional items in the year to 24 February and plans a dividend of 2p a share.
Crucially, Wilson can give shareholders the confidence of a new era of growth. His track record in integration and cost saving makes him vital to securing their backing and to help Tesco beat the £200m of synergies forecast so far – a figure many have found underwhelming.
Whether HSBC's suggestion that the true figure of that war chest could end up more like £500m remains very much to be seen.
Legacy
So, too, does the significance of today's developments for the other main protagonist, Dave Lewis. Is that other member of the deadly duo appointing Wilson as his number two so he can walk off into the sunshine of a new job at Unilever or elsewhere, assured his legacy is in safe hands?
If so, why is Tesco saying goodbye to Davies now, instead of keeping him on board and allowing Wilson to come in as the top man? Or do Chas and Dave, as they have become billed by observers, recognise they still have quite a bit of work to do together, before any parting of the ways, if they are to really make their mark on retail history?
It's a fascinating extra subplot to the drama, which will doubtless become the matter for more speculation as the crucial votes later this month approach.