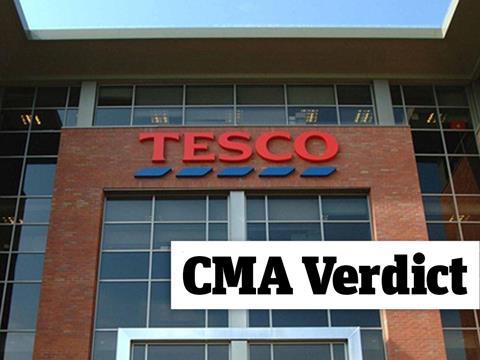 Christmas has come early for Dave Lewis and Tesco.
In fact, you could almost hear the crackers being pulled at its Welwyn Garden City HQ after today's ruling by the Competition & Markets Authority. Save a few formalities, it means one of the biggest takeover deals in UK retail history is pretty much done and dusted.
Provisional it may be. But today's announcement will surely mean that by the time the festive season is really upon us (the CMA has bizarrely chosen Boxing Day as the date on which it will actually confirm its final decision), Tesco and Booker will be looking ahead to a new year in which it will transform the wholesale convenience market for good, with opponents left to drown their sorrows in trepidation of what could be to come.
Today's report also appears to show that the months of painstaking due diligence done by Tesco boss Lewis and his soon to be brother-in-arms Charles Wilson was worth all the money on expensive lawyers it must have cost.
The two parties have argued, ever since this most amazingly kept secret became public, that it would be sheer folly for them to try to reduce competition in the market, either in wholesale or retail.
Today the CMA decided that even beasts with such scale as Tesco and Booker did not have the power to damage competition, even if they wanted to.
The CMA panel concluded that the wholesale market would remain competitive in the longer term and that Booker's share of below 20% in the market was simply not enough to justify concerns.
Far from reducing competition, in fact, it felt the merger was likely to increase competition in the wholesale market, as well as reduce prices for shoppers.
Outcry
Of course it has not taken long for the outcry to come from opponents, led most colourfully by Landmark managing director John Mills, who said he would be willing to "lie down in front of the tanks" if the £3.7bn takeover gets the go-ahead, as he predicted "thousands of jobs disappearing from family-run foodservice wholesalers and independent stores, and the net impact will [be to] reduce choice for consumers and communities, a point that seems to have been totally lost to the CMA."
With Tesco operating more than 3,000 stores across the UK, while Booker supplies more than 5,000 stores under the Premier, Londis, Budgens and Family Shopper brands, there may be a few others with caterpillar track imprints on their backs before long.
Today's decision will also no doubt only accelerate consolidation elsewhere in the convenience and wholesale sector, following another momentous announcement yesterday - that Nisa's shareholders had voted to accept the Co-op's £137m bid for the buying group. (What odds now on the CMA blocking that deal? A lot lower one would imagine, despite the best efforts of Nisa members who voted against the deal to lobby the CMA.)
Ironically, shareholders are perhaps the biggest hurdle left facing Lewis and Wilson, rather than rolling over the final hurdle laid down by the competition authorities.
Lewis has previously admitted there is work to be done on this front, not least in embellishing Tesco's early estimate of a £25m benefit in terms of growth, which he has suggested could be just the tip of the iceberg.
Similarly, Wilson will now be looking towards Booker shareholders, where a higher threshold compared to Tesco (75% compared to 50%) for shareholder approval will be needed.
But with analysts suggesting the deal could lead to synergies and revenue growth of anything up to £500m in total, surely this is also a matter all over, bar the shouting.
● Read news, insight and analysis on the Tesco-Booker merger here