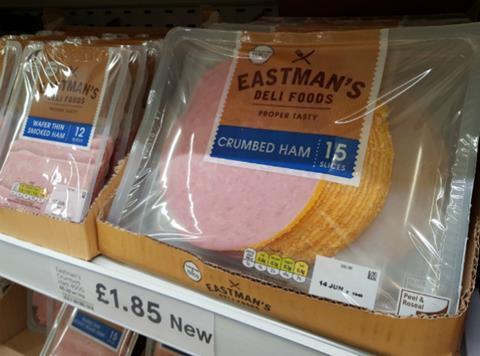 Tesco is continuing the expansive relaunch of its own-label lines, introducing Eastman's Deli Foods as the latest replacement for Everyday Value SKUs in the chilled aisle.
The new tertiary brand, with a "proper tasty" strapline, has rolled out across 48 products including sausage rolls, pork pies, quiches, cooked meats and salad sides – all of which were "priced competitively" according to Tesco.
"We're always looking at how we can offer our customers great quality products at great value prices," said a spokesman for the retailer. "As part of this, we have added to our range of brands."
The introduction of Eastman's Deli is the latest part of Tesco's Project Atlas programme to overhaul 10,000 own-label SKUs. Earlier this month, the grocery giant axed 55 ambient Everyday Value products including teabags, baked beans and flour, replacing them with the similarly priced Stockwell & Co lineup. It features a 'since 1924' claim on pack in reference to the year TE Stockwell's tea became the first product sold under the Tesco brand. The new Stockwell tea is made by Typhoo.
Previous launches under Project Atlas have included Hearty Food Co, which includes chilled ready meals, pasta and pasta sauces; HW Nevill's Quality Bakers bread and bakery products; frozen meat under the Butcher's Choice label; Ms Molly's confectionery; and Grower's Harvest frozen produce.
Tesco's move into tertiary brands and phasing out of Everyday Value has also seen the introduction of the Farms portfolio across fruit, veg, meat and fish. The supermarket has faced criticism for its use of the Farms name, with Feedback, the environmental lobby group, attacking the grocer's "unflinching commitment to fake farm branding".