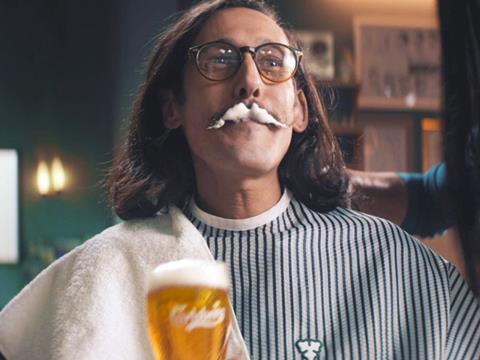 Carlsberg has become one of the highest profile victims yet of Dave Lewis' Project Reset at Tesco.
The retailer said it had delisted a raft of Carlsberg products and would in future only stock four-packs of Carlsberg lager in 200 of its stores. Other Carlsberg lager SKUs - as well as Somersby cider - would be discontinued.
A spokeswoman for Tesco said: "We have made this decision as part of a full product review to improve our offer for customers.
"We have taken the decision to discontinue a number of Carlsberg products in our stores and online. We will continue to offer customers a great range of beers, lagers and ciders. Colleagues in store will be on hand to offer assistance and suggest alternatives should customers find a product they used to buy is no longer available.
"We will continue to stock the Carlsberg four-pack of lager in 200 of our stores."
A spokesman for Carlsberg stated: "we cannot comment on the specifics of our commercial agreements. However we are aware of consumer disappointment in their reaction on social media to Tesco's decision to reduce the number of Carlsberg brand products from their range."
Shopper reaction
The delistings are a blow to Carlsberg UK, which was last week named in the national media as a possible takeover target for Irish drinks group C&C.
The move has also not gone down well with some Tesco customers.
Grant Alexander tweeted: "Just been informed that Tesco no longer going to sell Carlsberg, can this day get any worse?."
Another shopper, Mark Jackson, emailed The Grocer: "It has become clear following my wife's recent trip to Tesco that Carlsberg has been removed from the range which I find staggering as I will now start shopping elsewhere.
"Surely as a business they are not in a position to be losing even more customers and removing such a big brand does not make sense. How can this be improving my customer offering?"
Carlsberg, which includes in its marketing strategy the position of official beer of the England football team, famously featured supermarkets as one of the ads under its If Carlsberg did….strapline.
Sales of Carlsberg lager are down 4.8% by value to £348m [Nielsen 52w/e 28 April 2015].
@aj1892 I'm sorry about that Andy, we have taken the decision to discontinue a number of Carlsberg products in our stores and online. (1)

— Tesco (@Tesco) September 25, 2015