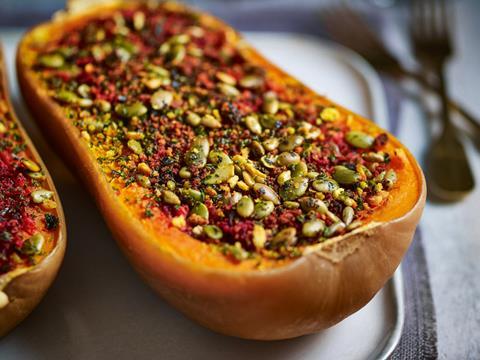 Tesco has doubled its festive vegan range this year.

The supermarket said it had seen demand for chilled and frozen vegan food increase by more than 50% in the past year and wanted to offer more choice for the growing number of shoppers interested in the trend.

The UK meat-free market is valued at more than £310m by Kantar Worldpanel and Tesco said with the party season coming up it hoped to attract shoppers looking at international flavours as well as vegan takes on British Christmas food.

The party range includes Finest Thai Inspired Butternut and Lemongrass Rolls as well as Bubble and Squeak Bites.

Other vegan party food treats will include Moroccan spiced cauliflower, sultana and harissa rolls, roasted butternut rolls seasoned with spiced pearl barley and herbs, and katsu rolls featuring katsu curry vegetables and a katsu crumb topping.
Tesco also launch a festive vegan sandwich this month as part of its Wicked Kitchen range - a Bubble and Squeak special featuring a spiced potato and veg-style fritter with chestnut stuffing, tangy cranberry chutney and red cabbage.

Tesco's vegan Christmas centrepiece dishes are: Finest Roasted Vegetable Galette, Finest Cauliflower Wellington, Festive Stuffed Butternut Squash and Festive Nut Roast

"People looking for plant-centred options for holiday meals no longer need to worry about being considered an afterthought at the Christmas dinner table or party," said chef Derek Sarno.

Sarno was appointed a year ago to oversee the creation of Tesco's Wicked Kitchen vegan food label.

"From party food treats to doubling the amount of veg centre pieces, vegans have never had more choice at Christmas than now," he added.