Tesco is trialling the refillable packaging service in 10 stores. For now it's loss-making, but supporters say it can succeed with scale
Tesco has been launching Loop aisles in 10 stores this week, packed with 88 branded and own-label products in reusable containers, which customers are expected to return to stores when empty. They will then be washed, refilled and returned to shelves for the next shopper.
The launch is a big one – Tesco's new aisles boast the widest range of Loop products available in any supermarket globally. But it is pitching the initiative as a "proof of concept". The in-store trial will "help us learn what works and what doesn't and to adapt", says Tesco CEO Ken Murphy.
So from these small but bold beginnings, is reusable shopping set to go mainstream? Does it make enough sense for retailers, brands, consumers and the planet to really take off?
To ensure broad appeal, Loop products are "comparable to the original" in price with a minimal deposit of less than £1 paid per item. "This is a very, very conscious decision we made early on, which is we don't want this to be a model which only works for higher-end products or higher-end customers," says Giles Bolton, Tesco's responsible sourcing director. "We want it to be accessible to everybody."
As a result, for now, Tesco and the brands involved are making a loss on Loop products sold. The reusable packaging is more costly to produce, and the collection, cleaning and return of containers to be refilled also needs to be covered.
It's a sensible approach, says Catherine Conway, founder of refill business Unpackaged, which has helped the likes of Waitrose, M&S, Sainsbury's, Co-op and Ocado to shed packaging. "This is a very new way of shopping and we need to make it as accessible to as many shoppers as possible, and price parity is key," she says. Participating brands are "well used to offering promos to drive engagement with new products, so making an initial per-product loss isn't so surprising."
But "realistically the product costs need to come into line with existing pre-pack costs to achieve mainstream traction" she adds.
The in-store execution
Not all 10 trial stores launched Loop as one this week. A mystery shopper found the Loop aisle at the Loughborough Rushes store still bare on Wednesday.
Nevertheless she liked the "return point directly outside so it can be accessed when the store is closed".
Shopfloor Insights founder Bryan Roberts had more luck at Tesco Extra Milton Keynes, where he was impressed by the "good range and nice merchandising".
"Some excellent PoS – both traditional and digital – made the concept easy to understand and the app download process intuitive too," he said.
"The presence of a knowledgeable and enthusiastic Loop ambassador was a great touch."
Tesco said it was always the plan that the trial would launch over the course of the week.
That's not impossible. Bolton says that "when you're operating something like this and it's really new and it's not at scale you're not going to make money" but that could change. "This whole thing works much better when you have very wide participation," he says.
Tesco will be sharing its learnings, which will lead to "other supermarkets in the UK we hope getting involved".
As Conway explains: "As the whole refillable and reusable packaging movement grows to scale, we'll see the costs come down as supply chain efficiencies are gained. It was always going to be more expensive in the short term as these are whole new product and service supply chains."
Even now, the costs are "not huge" says Paul Fraser, MD of Meridian, which has one of its peanut butter products in the Loop range. At a much larger scale, the initiative becomes "even more accessible" and attracting new brands and reaching greater scale "becomes then a virtuous circle".
Scaling up
Tesco and Loop appear committed to achieving scale. "The consumer reaction to Loop in these first Tesco stores will prove pivotal in refining the Loop offering and ultimately we hope to scale reuse across more stores and the number of product lines available," says Loop CEO and founder Tom Szaky. Murphy says he's looking forward to seeing "how industry can come together to accelerate the path to reuse".
Indeed, Carrefour, which launched Loop aisles in several smaller stores in Paris late last year, in June extended the scheme to a hypermarket and 10 convenience stores. By the end of 2025, Carrefour wants 500 of its stores to have reusable and returnable packaging, and 1,000 products with reusable packaging. It's "evidence of just how much faith Carrefour is placing in this innovative solution", it says.
While a well-sized range at launch, Loop's UK offering will need to grow "to appeal to a large number of households and habitualise this way of shopping" says Ben Patten, CEO of reuse and return online grocery delivery service Good Club.
"And in the context of a big store, it will require a concerted long-term effort from the retailer – to prioritise floor space for selling the reusables range and the returns bins," he adds.
Time is an important factor in the scheme's overall success environmentally, says Szaky. From an overall carbon life-cycle point of view, some of the reusable packaging only brings savings compared with standard packaging on the third or fourth cycle of use. That makes it "really important folks do bring back the packaging so we can clean it, reuse it, and incur those environmental benefits".
Nevertheless, even if discarded, the Loop product packaging can be "recycled back into itself, so you're not getting things going into the refuse stream at any point" says Bolton.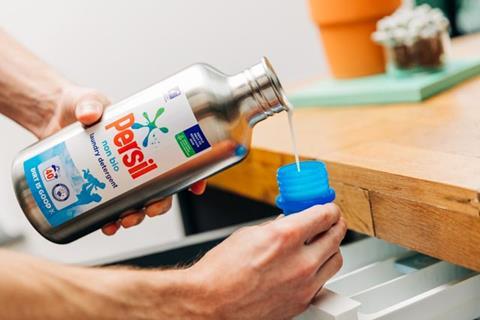 Consumers are keen to reduce the amount of plastic they use. In an August survey by Toluna, 68% said they would switch to plastic-free options in their weekly shop if they were available. A similar proportion wanted the sector to do more to reduce plastic packaging. Meanwhile, research from M&S found two thirds of consumers were more likely to consider using refill stations than a year ago, and 23% of shoppers were actively seeking retailers that offered the service.
But it is still an unknown whether shoppers will take to Loop. There are new habits to form, like remembering to take back empties on the next store visit. There's the additional time required to drop off used packs. Tesco is aware of this. For now, some staff have been assigned to help customers in the aisle and at return points.
The products and processes "are not commonplace right now" Murphy says, "so we need to help customers by making the shift in shopping habits as simple as possible. A successful reuse offer must be easy, seamless and cost effective." If more supermarkets offered the scheme, and items could be returned to any of them, or at other locations, consumer convenience would improve.
Ultimately, Loop is likely to continue alongside other packaging reduction efforts – like the refillable aisles offered by several supermarkets – says Conway.
"Some shoppers will respond well to pre-fill where they can pick up something ready to go off the shelf, others are happy to refill either in their own containers or ones provided by the retailer," she says. "It's too early to talk about a 'better solution' when we don't know what is going to work best for consumers, as this is all relatively new white space."
The most important thing is that the sector is trying to tackle the problem of plastic packaging, she adds: "There will be no golden bullet, and no one solution – we need as many solutions as are needed to get to scale quickly if we're to turn the tide on the single-use plastic packaging that's choking us and our planet."