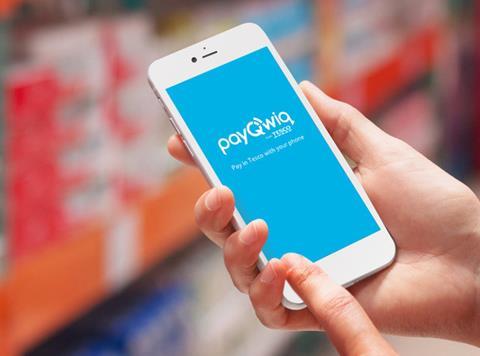 The mobile payments scene is hotting up. Though use of Apple Pay has been slow, Android and Samsung have both announced new apps in recent weeks. And not to be outdone, last week Tesco announced its intention to take PayQwiq, the mobile payment app it first unveiled in 2014, nationwide.

But given the slow uptake for mobile payment - in 2015, only 13% of adults had used their phone to make an in-store payment, according to Deloitte - why is Tesco ploughing ahead? And should competitors follow?

Data on the size of the UK mobile payment market is virtually non-existent, but analysts believe it is a small market with huge potential. Electronic transaction consultant Hyperion expects it to assume "an increasingly leading role".

For Geoffrey Barraclough, head of propositions at payment technology company EVO Payment International, going mobile is common sense. "Joe Public wants to do more and more things with their phone."

Tesco's rationale appears to be that not only can it gather customer data, it won't have to pay fees to the likes of Apple Pay if it does gain popularity. In fact, it could rival the mobile providers in this space.

Retailer vs consumer appetite

Tesco is not alone in this belief. Howard Berg, senior vice president at digital security specialist Gemalto UK and Ireland, has seen more and more retailers enquiring about mobile payment apps. Sainsbury's is developing a shopping app that, among other things, will eventually become a payment tool. Asda has a more basic app but it has clear potential to become a payment platform.

In fact, it is "difficult to think" of a retailer that isn't keen to make payments faster, he says.

Consumer appetite may prove hard to secure, though. Uptake of US retailer Walmart's mobile payment app has been "slower than expected" in the trial phase, explains Berg, despite the payment method being more popular across the pond. In fact, Starbucks is the only real success story, says Daniel Lucht, global research director at analyst RetailFarm. The secret? The app gives you a free coffee after 15 purchases.

Barraclough believes this is telling of the market as a whole - mobile payment apps will only work if consumers have a strong incentive to engage. "People love apps but hate downloading them," he says. "It's going to be quite hard to get millions of people without offering a couple of benefits."

But that gives the likes of Tesco and Sainsbury's an advantage as they are able to link to existing loyalty schemes. In fact it's already paid off for Tesco: integrating PayQwiq with Clubcard, and offering 500 points to customers who downloaded and used it, earned it a recommendation from an author on consumer site Shopper Points.

Long-term challenge

But will consumers continue to use the app after receiving the coveted loyalty points? The Shopper Points site suggests the outlook is uncertain; the author is "not fully convinced" the app is simpler than card payment and finds it "restrictive" it can only be used in Tesco stores.

It calls into question whether consumers will download an app for one retailer when they could cover all bases with the likes of Apple Pay. David Gray, senior analyst at Planet Retail, believes Tesco is "enormous" enough to make it viable in terms of footprint and footfall.

Tesco says it has no current plans to develop the app for use outside its stores, but Bhavesh Unadkat, management consultant at CapGemini, believes retailers could compete with the likes of Apple Pay by opening up their apps to other retailers. He points out that Tesco's PayQwiq allows transactions of up to £400 - giving it a huge advantage over Apple Pay's £30 limit - though he admits there is "plenty of competition".
The mobile pay pioneers
Coffee chain's mobile app dates back to 2011. By the end of 2015, it reported 21% of all transactions at Starbucks in the US went through the app
US retailer entered mobile payments race in December with launch of Walmart Pay in selected stores. It has progressed "slower than expected" say analysts, but nationwide rollout in the US is expected in the summer
PayQwiq app was trialled in 50 stores in 2015. This number has increased to 500 stores and nationwide rollout is planned following "very positive" feedback