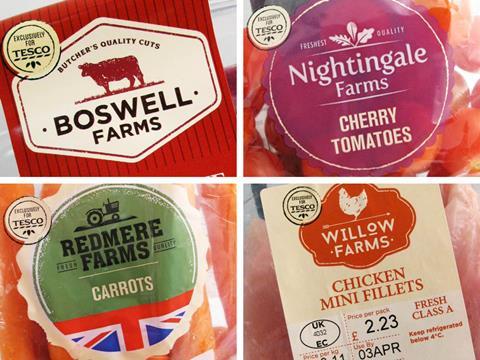 Tesco has come under a fresh attack from environmental campaigners for its so-called 'Fake Farms' range.
Lobby group Feedback has awarded the supermarket what it claims is the first of a series of Total Bull awards, which it plans to give out to supermarkets for what it claims are poor environmental food policies.

Feedback declared it had awarded Tesco the honour for "its unflinching commitment to fake farm branding", following the launch of its successful range in March last year.

It said that despite Tesco's choice of quintessentially British-sounding names under the Farms brands umbrella, the company's website acknowledged that not all of the meat sold in its Woodside Farms pork range would have come from UK farms.

It said even meats that were sourced from UK farms, such as Willow Farms chicken, did not live up to the name on the label but were supported by a growing number of mega-farms "invading the UK's countryside".

Feedback also criticised other supermarkets' farm ranges, including Asda's Farm Stores, which features an old-fashioned barn and tractor on the label, Lidl's Birchwood Farm meat range (which is marketed as Strathvale Farm in Scotland), Aldi's Ashfield Farm and Marks & Spencer's Oakham chicken.

It has urged supporters to sign postcards depicting pigs in small cages with the tagline 'greetings from Woodside Farms' and send them to Tesco chief Dave Lewis. It also urged them to tweet using the hashtag #TotalBull.

A spokesman for the campaign said: "Supermarkets are selling meat under fake farm names, deliberately encouraging consumers to believe that the meat is sourced from small-scale producers. We believe this is peddling a load of bull. For all shoppers know, behind the bucolic mirage could lie a high-intensity, unsustainable mega farm."

Tesco has always strongly defended its Farms brands range, which was a response to similar strategies at rivals Aldi and Lidl.

UK CEO Matt Davies has branded criticism "rubbish", saying it is "bleedingly obvious where the source is". CEO Lewis has repeatedly said criticism of the range, which has been a key driver in Tesco's fightback under his leadership, was unfounded.

Speaking in the wake of controversy over the 2 Sisters scandal, at Tesco's results presentation in October, Lewis said: "More credit should be given to customers - they understand that a single farming entity is not possible to supply a business the size of Tesco."

He added that the seven farm brands, which include meat, poultry and both British and imported fruit & veg, were now appearing in 70% of baskets.

"They give customers a value and quality they appreciate."

Tesco declined to comment on Feedback's award. The Grocer understands it offered to meet Feedback to discuss its concerns, but the group refused.