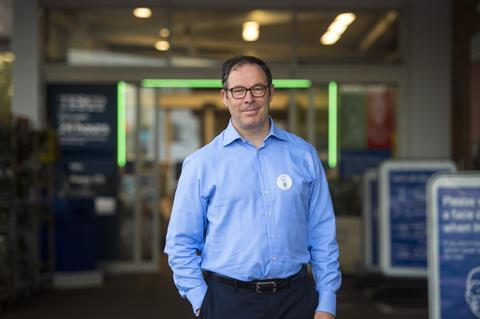 Tesco boss Ken Murphy today admitted there had been "rising tensions" in negotiations with suppliers over inflation, but pledged there would be "no return" to a reliance on so-called 'back margin' deals to keep the lid on prices.
Earlier this month, The Grocer reported how suppliers had said Tesco had ramped up its use of the back margin practice – involving fixed fees to support promotions, including bookings for gondola end space – alongside its everyday low price negotiations.
Amid a "tsunami" of cost price increase requests, suppliers said Tesco had in some cases been agreeing to price increases if suppliers agreed to promotional spend.
Speaking today after Tesco revealed a year-on-year fall of sales in the UK of 1.5% for the first quarter, CEO Murphy said: "Undoubtedly inflation is raising tensions because there is pressure on the supply chain and cost base for every business.
"But we are committed to maintaining our policy [on back margin]. Our policy hasn't changed at all."
Under former Tesco boss Dave Lewis, Tesco switched form having 24 different forms of back margin payments from suppliers to just five, with the onus put on volume deals around EDLP.
However, retailers are coming under pressure to keep prices down, with IGD warning yesterday the UK economy was facing its strongest period of inflationary pressure since 1970, and predicting food price inflation could peak at 15% in the summer.
Murphy said it was more important than ever for Tesco to work with suppliers, adding: "We are really pleased with the standing we are held in by suppliers.
"In the recent GCA league table we came second and are widely recognised as one of the best retailers from a groceries supplier's perspective.
"We have also seen this in our own internal survey. But we are determined to work with suppliers to try to make sure we mitigate the cost to customers as much as we possible can and that's our challenge."