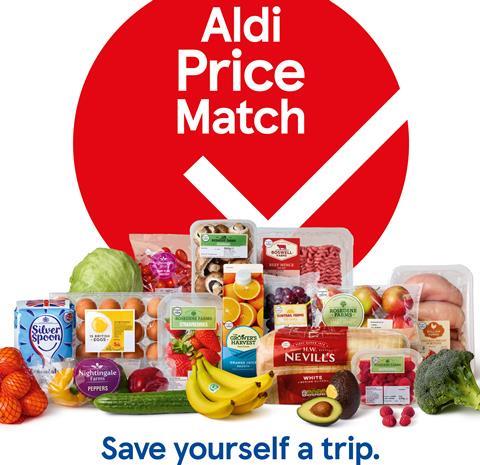 Tesco boss Dave Lewis has warned brands their promotional models have to change as it prepares to launch a new price war against the discounters ahead of a coronavirus recession.
However, with Tesco this week kicking off a major range review to underpin its shift towards everyday low pricing, the Tesco boss also sought to reassure brands the move would not negatively impact innovation.
Today, Tesco confirmed it was ramping up its battle against the discounters, with its Aldi Price Match being extended to 500 branded and own label products.
The supermarket claimed its launch of Aldi Price Match in March had seen net switching gains of customers to Tesco from Aldi "for the first time in over a decade".
The Grocer revealed this week it has told suppliers it will not allow the likes of Aldi to gain the sort of price advantage that fired the growth of the discounters following the 2008/9 banking crash.
In talks that began this week, Tesco has informed suppliers it will end traditional promotional activity, with all promotions driven through its Clubcard loyalty card, making them exclusive to Tesco's 19 million Clubcard holders.
Tesco revealed today its shift to EDLP had already seen promotional participation reduced from 28% to 14%.
"We are extending Aldi Price Match to nearly 500 Tesco and branded products and will continue to seek further opportunities to bring even greater everyday value to customers at this challenging time," said Lewis.
He told The Grocer a model in which suppliers offer cheaper prices to the likes of Aldi, for different pack sizes, was "not a model we want to follow" and said Tesco was determined to leverage its buying power to change the promotional dynamic.
"What we are suggesting should champion good innovation," claimed Lewis.
"Real innovation should stand tall in a market that's simplifying.
"There's no intention of culling brands. Brands are very important to us," he added.
Tesco has reported UK like-for-like sales growth of 8.7% in the first quarter, including a £2bn rise in online sales which have nearly doubled since the coronavirus crisis began.
CEO Dave Lewis, in his last quarterly presentation before he steps down from the retailer, said like-for-like online sales were up by 90% in May in the UK, as Tesco added 600,000 delivery slots in the quarter.
However, while Lewis said he expected Tesco's hundreds of thousands of new online customers to stay, the impact of coronavirus on stores would lead to sales being flat across the whole year.
Lewis said he expected the costs of the crisis to be around £840m for the full year, which would only be "partially mitigated" by its £532m business rates bailout and additional food sales.