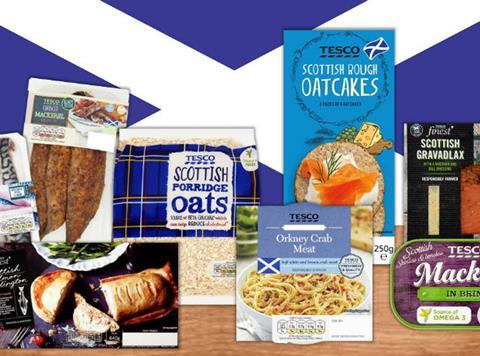 Tesco has pledged its produce and stores in Scotland will remain "festooned with saltires" after making a social media blunder over its use of the Union Jack.

The retailer faced an angry response from supporters of the Keep Scotland the Brand campaign after its customer service team mistakenly said the Scottish flags were being removed from packs north of the border.

A question on social media asked: "Can you confirm that you are removing the saltire from Scotland's produce and replacing it with the British flag?"

In response, Tesco tweeted: "We are removing the Scottish saltire and replacing it with the United Kingdom flag."

Tesco has now removed the tweet, which it said was a mistake resulting from a member of its social media team misunderstanding its decision last August to use the Union Jack flag on strawberries.

Today the retailer stressed it had no intention to remove the Scottish flag more widely across its fresh products. It pointed to the heavy branding of local Scottish food in stores across the country and said it was Scotland's biggest buyer of local fresh food.

"We are extremely proud to be Scottish agriculture's biggest customer, as any customer visiting our stores or buying our products in Scotland will see. There has been no recent change to how we use the Saltire to celebrate Scottish food and drink," said a spokesman for Tesco Scotland.

In the wake of the blunder, Scottish food industry groups have urged retailers against any move to remove local branding.

Scotland Food and Drink claimed the most successful retailers in Scotland treated Scottish consumers differently. Its research shows Scots are particularly concerned about local sourcing, with almost 70% saying that it is important that locally sourced food and drink is available when shopping, compared with only 55% of the rest of the UK.

Seven in 10 Scots think food labelled as Scottish is of superior quality and are prepared to pay more for local produce. Almost two-thirds (65%) of Scots say they are more likely to buy products with the saltire on them, but only 26% would do the same for the Union Jack.