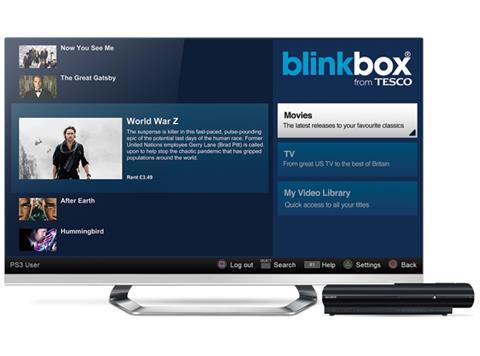 Tesco is reportedly putting its video-streaming service Blinkbox up for sale after it failed to turn a profit.
According to The Times, the supermarket's new CEO Dave Lewis decided the business was a distraction from Tesco's core interests and broke the news to senior Blinkbox staff at their London office on Friday (26 September).
Former chief executive Phil Clarke bought an 80% stake in Blinkbox in 2011 for an undisclosed amount, aiming for it to become a rival to the likes of Netflix and Lovefilm.
But the service, which offers free web- and app-based streaming of films, TV shows and music, may be closed if no buyer is found, The Times said.
It was no longer possible for "one general" to command power over an entire chain, said Blinkbox founder and Tesco group digital director Michael Comish, speaking at the World Retail Congress yesterday.
It is expected Comish will remain with the supermarket.
Tesco and Blinkbox refused to comment.
Tesco launched an in-store marketing blitz for Blinkbox in October 2013, followed by its first-ever TV ad campaign in March this year.
Two weeks ago, it announced the closure of its free Clubcard TV service. "We've learnt a lot since launching Clubcard TV in March 2013 and while many enjoyed our free service, we weren't getting the level of repeat usage we had hoped for," it said in a statement.