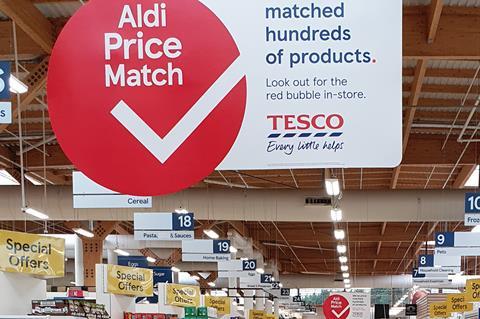 Tesco has locked the prices of more than 1,000 products until next year, in the latest attempt to keep pace with discounter Aldi.
The supermarket's bosses said the move would allow hard-pressed families to plan their budgets until after Christmas.
The move is driven strongly by Tesco's determination not to allow the rampant Aldi to steal more customers.
Since announcing price cuts to 500 lines in June, Tesco said it had cut prices every week, alongside its Clubcard Prices and Aldi Price Match, with more than 600 staple products now price-matched with the German discounter.
Today Aldi revealed sales were up by nearly £2bn to £15.5bn and claimed the cost of living crisis had changed shopping habits for good.
Last year Aldi overtook Morrisons to become the UK's fourth largest supermarket, with Morrisons due to release its latest results on Wednesday.
"We know this has been a year of budgeting carefully for shoppers, with customers wanting to make sure they are getting great value on their shop," said Tesco UK CEO Jason Tarry.
"By locking more than 1,000 prices, our customers know exactly how much they will pay for those items today, at Halloween, at Christmas, and into 2024."
Tarry added: "Food inflation is still with us, but by cutting prices wherever we can, and by locking others to give customers certainty in their budgets, we are able to provide great value to our shoppers. When you combine that with the more than 8,000 Clubcard Prices deals each week, there are thousands of reasons to shop at Tesco."