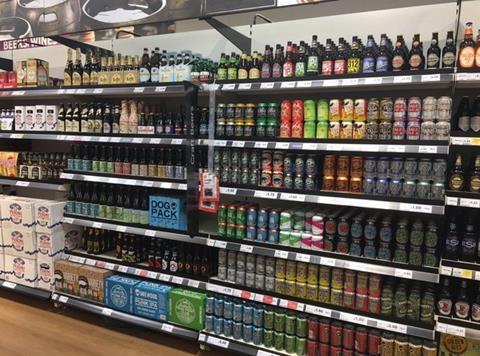 Tesco has kicked off a major overhaul of its beers, wine and spirits (BWS) category in a move echoing the changes to layouts made across its food aisles last August.
The changes, which come in the week The Grocer revealed Heineken had fallen victim to a cull of booze brands by the UK's biggest retailer, put much of the focus on Tesco's own-label line up, especially its Finest range.
Tesco said the move followed the success of last August's range review, which saw it range food products by meals rather than individual items and gave greater shelf space to popular Tesco and Tesco Finest products.
The BWS aisle will now give more shelf space to spirits, craft beer, sparkling wines, small bottles and premium spirits in order to "better reflect the way customers shop", Tesco said.
The changes include the launch of 10 new Finest wines, from "prestigious" regions including Margaux and Valpolicella Ripasso, which will be priced between £7 and £20.
Tesco has also unveiled a new range of Finest wines in small 187ml bottles, priced from £2, including a version of its Finest prosecco.
The retailer is quadrupling its line-up of English sparkling wines with three new products, Chapel Down Brut and Rose and, Hush Heath Rose. Tesco is also rolling out an extended range of craft ales.Other layout changes include bringing the fortified wines section to sit next to the spirits.
Gavin Warburton, Tesco's category director for BWS said the changes overall would "create more space for new and popular lines."
"We've been listening to customers and they've told us that while great value and quality products are important, they still need a helping hand in navigating our range," he said.
"By bringing relevant products closer together in stores, we want to provide our customers with the peace of mind that shopping for high quality beer, wines or spirits doesn't have to be hard."
These are the latest in a series of radical changes to Tesco's BWS aisle. These kicked off in October with a BWS reset which saw a reduction in 30% of its wine range and a major focus on more stable and lower prices as well as own label.
They also come in the week The Grocer revealed Heineken's Tesco listings had been more than halved following a review of its beer and cider offer. Tesco is now stocking just 22 products from Heineken's beer and cider portfolio, down from 53 at the beginning of the year, following a spate of de-listings in February.