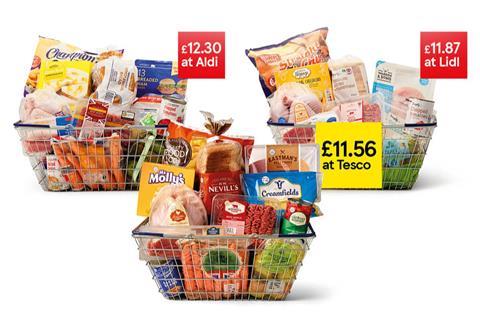 Tesco has told suppliers they have just days to agree to drop their prices, as negotiations ahead of an all-out price war with Aldi ramped up this week.
The Grocer understands suppliers have been given a cut-off of 10 July to respond to its call for a switch to everyday low pricing (EDLP), which will also see promotions canned unless they come under its Clubcard loyalty scheme.
A raft of suppliers told The Grocer they faced huge pressure from the UK's biggest supermarket to lower their prices, and raised concerns over the timescale of the demands and the lack of clarity over how the step change in promotions would work in practice.
"Tesco are putting a lot of pressure on our business in an effort to support their coming price war," said one supplier, who claimed what Tesco is billing its 'value and loyalty strategy' had little to offer suppliers except an implied threat to delist their products if they did not play ball.
"They have linked case cost reductions, promotional support and range rationalisation and are using jargon like 'Those who come on the journey with us will be rewarded.'"
"It is difficult to see what benefit there is in this for us. We've been told NPD won't be listed, on-shelf availability isn't likely to drive any benefit for us. It's hard not to think the most likely outcome is lower volume and lower margins."
Another supplier told The Grocer it was unreasonable of Tesco to expect suppliers to drop their prices in not much more than a week.
"Our concern is over the time to deliver what is being asked," they said. Another supplier said: "It is implied they will favour those who lean in. There's nothing on the table in return."
Suppliers also questioned whether the EDLP strategy would work.
Ged Futter, founder of The Retail Mind, said: "We have been through this story of strategy on numerous occasions. It's not a new strategy but EDLP doesn't work for brands. It's not worked before and it won't work this time either."
A supplier added: "Reducing range and giving extra space to EDLP never delivers the required volume uplift. Customers don't understand EDLP on brands.
"It's been done before so why will it be any different this time?"
Another supplier source said: "The concern among suppliers is that Tesco is talking to them on the one hand about dropping prices in a move to EDLP and on the other about a range review. That very much looks like pay to stay."
Suppliers have also questioned how Tesco plans to use Clubcard as the vehicle for all promotions. "It appears no supplier has been told how the Tesco Clubcard promotional mechanism is going to work," said a source.
In presentations seen by The Grocer, Tesco claims suppliers who help it take on Aldi and the other discounters will be rewarded with greater volume sales.
Tesco CEO Dave Lewis confirmed last week it was ramping up its Aldi Price Match to 500 branded and own label products, following the launch of the scheme in March with just a handful of brands involved.
A Tesco spokeswoman said: "We have been speaking to suppliers about our strategy going forward and how we can work together to continue giving our customers great value."
Tesco had supported suppliers during the crisis, including shortening payment terms for small suppliers and taking produce destined for the foodservice. "That collaborative approach will continue as we look for new and innovative ways to bring our customers great quality products at great value prices," she added.