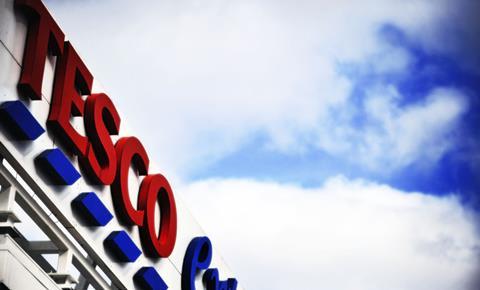 Tesco today promised to accelerate the price war against its supermarket rivals and the discounters, as CEO Philip Clarke said the £200m offensive launched in February was "just the start" of things to come.
The move came as the retailer announced its second year in a row of falling profits, with UK like-for-like sales down 1.3% and group profit of £3.3bn, down 6% in the year ending 22 February.
Clarke, who has come under increasing pressure from some investors, warned that sales in the UK were being held back by the company's struggle to transform its general merchandise business in the face of the shift to online and the "increasingly competitive" grocery market.
But he hit back at suggestions he could step down and said he intended to remain at Tesco to see through its turnaround strategy.
Promising to roll back the price of more products, following an average reduction of 24% on everyday ranges such as carrots, cucumbers and peppers, Clarke said: "£200m was just the start and we will see more coming.
"We retain the flexibility to do what is necessary and we will see more prices coming down."
Read this: Tesco's store plan: More Giraffes and gyms in the pipeline
Clarke said Tesco had to be "much closer if not the same" on the price of everyday items as the likes of Aldi and Lidl, who have been eating away at its share.
Tesco has come under increasing pressure to act after Morrisons promised in March to throw £1bn at price cuts over the next three years. In November Asda pledged £1bn in cuts over five years. However Clarke refused today to put a figure on how much the further cuts would cost.
Tesco also revealed further plans to speed up the refresh programme of its large stores, with 160 revamps set for this year, or three per week.
Clarke said refreshes to date had seen sales uplifts of 3-5% and promised Tesco would revamp 650 stores in total in the UK this year.
"We are transforming Tesco through a relentless focus on providing the most compelling offer for our customers," said Clarke. "Our results today reflect the challenges we face in a trading environment which is changing more rapidly than ever before. We are determined to lead the industry in this period of change."
Internationally, Tesco reported a 27.7% fall in profit in its European operation, where it recorded a one-off impairment of £734m after revising its long-term budget. "Challenging" conditions and declining profits had led it to cut its capex in Europe, Tesco said.
Profits fell 5.6% in Asia, where Tesco again cited "difficult trading conditions" and stumbling blocks such as new restrictions on trading hours in South Korea.