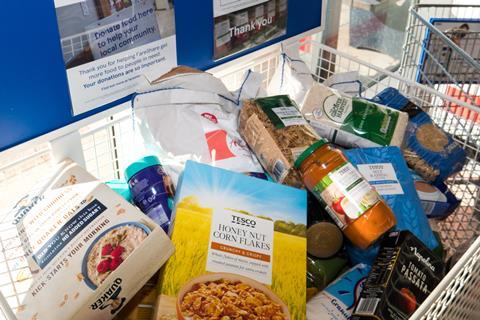 Tesco redistributed almost 90% of surplus food from across its UK business in the past year, with an average of three million meals a month going to charities fighting the hunger crisis.
The supermarket announced 88% of surplus food was redistributed, ahead of a target of 85% set in 2016.
Tesco said partnerships with food waste organisations FareShare and Olio were fundamental in reaching the target.
Last year, Tesco donated more than 25 million meals through FareShare to charities and community groups.
It has also been working with food sharing app Olio since 2020. In the past 12 months, Tesco donated more than 20 million meals worth of surplus food through Olio to local communities.
Tesco passing its 85% surplus food target comes after the retailer accelerated its target to halve food waste in its own operations by 2025 – five years ahead of the United Nations Sustainable Development Goal.
"No one wants to see good food go to waste," said Tesco food surplus project manager Cheryl Wetherburn. "With so many people facing food insecurity in the UK, we are working harder than ever to make sure food gets to those who need it.
"We are incredibly proud of the vital work our partners do every single day, and it's thanks to their efforts – and the hard work of all our colleagues and volunteers – that helps the food reach so many people."
FareShare CEO Lindsay Boswell added: "It's fantastic to see how committed Tesco is to reducing food waste across all of its operations. The food we receive through Community Food Connection and via Tesco distribution centres as a result of this innovative and award-winning partnership is absolutely vital to the charities and community groups we support, who work tirelessly to feed the people in their community that need it most.
"Together with Tesco, we are helping to strengthen communities across the UK and make a real difference to people's lives."