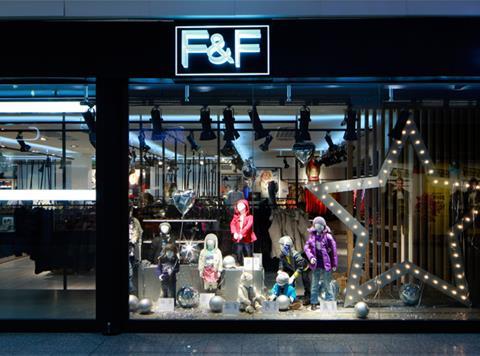 Tesco has become the latest retailer to sign up to a Greenpeace initiative to remove hazardous chemicals from its clothing supply chain.

The supermarket has committed to removing all hazardous chemicals in the production of its own-brand F&F clothing label, as part of Greenpeace's Detox campaign. It will also publish a list of all suppliers involved in the supply chain of the clothing as part of the undertaking.

Greenpeace has been leading the Detox campaign since 2011 in a drive to encourage retailers and manufacturers to eradicate substances which, when leaked into the rivers and soil surrounding factories and plants, can have devastating environmental effects.

Since the campaign was founded, the environmental charity has secured commitments from 80 retailers and manufacturers, including H&M, Benetton, Levi Strauss, Aldi, Lidl and now Tesco. The companies signed up to the commitment account for 15% of the world's textile productions, the charity says.

As part of the commitment to the Detox campaign, Tesco has published a list of chemicals that should be restricted from the manufacturing process for their harmful effects, in a bid to lean on its suppliers to use alternative substances. Large parts of the grocer's supply chain is based in countries such as India, China and Bangladesh, which have less stringent regulations governing hazardous substances in the wet processing stage of production.

"Our Responsible Sourcing team has been working with Greenpeace to align all our textile products with the Detox commitment, starting with clothing and footwear, and we've compiled a list of restricted substances to help guide our suppliers. This commitment is part of our goal to protect the environment by sourcing products sustainably and responsibly for our customers," said Tesco technical director for clothing Alan Wragg.

Greenpeace has described the struggle to secure commitments from retailers and manufacturers, which Detox campaign project lead Kirsten Brodde said have gone from "total denial and opacity of their supply chain to transparency and the banning of all hazardous chemicals".

Brodde added: "Tesco's commitment shows the rest of the industry that using hazardous chemicals is not an option any more. Tesco now has the opportunity to match the progress being made by other retailers and Greenpeace will monitor it closely to ensure they follow up their commitment."

The charity has published a report into the use of hazardous chemicals in textile manufacturing, in which it blames a culture of "cheap throwaway fashion" and calls on more retailers to review their own supply chains. The report, 'How seriously are retailers taking responsible fashion?', has been released today.

"We believe Detox-committed brands could lead this change in the industry," said Bodde.