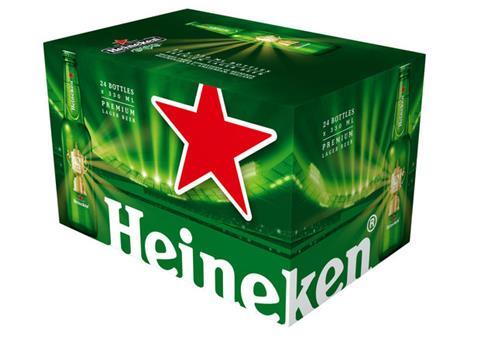 Heineken appears to have fallen victim to Tesco's latest range reset, with the retailer slashing the Dutch brewer's listings in half following a review of its beer and cider offer.
Tesco is now stocking just 22 products from Heineken's beer and cider portfolio, down from 53 at the beginning of the year, following a spate of de-listings in February.
A number of Heineken beer brands - including Amstel, Birra Moretti, Sol, Tiger Beer and Kingfisher - have been axed entirely from Tesco shelves, while many others have seen their ranges cut to just one or two SKUs.
Tesco has stopped stocking multipacks of Heineken lager bottles, and the larger multipacks of cans, reducing its offer to just two SKUs: the 650ml bottle and six-pack of 330ml cans.
It has also ditched Kronenbourg bottles and larger multipacks, with only four-packs of 440ml cans now available.
The Fosters range has also been decimated. Fosters is only available in four-packs and twenty-packs of 440ml Fosters Lager cans, with Fosters Gold, Radlers and Rocks all dropped.
John Smiths has undergone a similar rationalisation. Extra Smooth and Original Bitter lines have disappeared from shelves, leaving only four-packs of John Smiths Original Bitter 440ml cans.
Tesco has also cut most of Heinken's Desperados range, with just Desperados Red now available in 3x330ml can packs.
Cider brands have also been clobbered, including Bulmers, one of the UK's leading cider brands. Bulmers Original is available in a 8x568ml multipack, with Bulmers Red Berries and Lime the only other remaining flavour in single and 6x500ml bottles. The Old Mout range has been reduced to 500ml bottles of Kiwi & Lime and Pomegranate & Strawberry variants.
Second phase of Project Reset
The delistings come as Tesco nears completion of the second phase of Tesco's 'Project Reset' programme, which started last summer. Unlike the previous reset, this review was convenience-focused, and saw Tesco increase the number of craft beers and lagers in its 402 Tesco Express stores from two to 30 brews before Christmas, while ripping out conventional and mainstream variants. And with sales performing "incredibly well" according to a Tesco source, following the changes, the same thinking is now being applied to its larger stores as the BWS phase two reset is completed.
However, Tesco's drastic review of the Heineken range – which includes a number of powerhouse brands – may also be connected to price negotiations. Heineken's record as a category captain has been exemplary in recent years as it delivered strong growth across a number of categories. But Tesco embarked on the cull a month after Heineken warned it would increase wholesale prices for the on-trade by an average of 6p a pint across its brands, citing rising costs that it was no longer able to absorb.
The brewer refused to comment on whether off-trade cost prices would also rise, but latest data suggests average retail prices for its beer and cider portfolio are up 7% year on year in the mults across a comparable list of 72 SKUs, analysis by The Grocer using BrandView data shows (BrandView 52 w/e 17 March 2017).
A Heineken spokesman said the brewer wouldn't comment on commercial arrangements with its customers. "Shoppers will continue to find a broad range of our fantastic beer and cider brands in Tesco," he said.
Tesco insisted the move was part of its regular range reviews to ensure its customer's needs were met. "We continue to offer customers a great range of beer, lager and cider," said a Tesco spokeswoman.