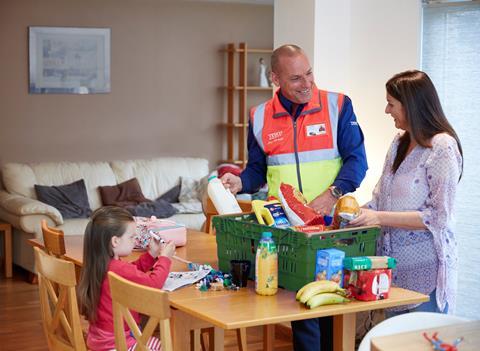 Tesco is going bagless for all online grocery deliveries, in a move to cut down on plastic waste.

All Tesco's online groceries will instead arrive loose in the crates carried by drivers, who will offer to help customers unpack, according to the supermarket.

Tesco's step comes two weeks after a similar announcement from Asda, which is removing the 'bagged' option for all online orders from 31 July.

Tesco's move is to take effect for all groceries delivered from 19 August. The supermarket said it would mean 250 million fewer carrier bags delivered to homes each year, and eliminate 2,000 tonnes of annual plastic production.

An exception will be the small red bags used to separate raw meat and fish, plus cleaning products in England, under government guidelines, Tesco said. These can be handed back to the driver for recycling. Clear plastic bags will also still be used for loose fruit & vegetables.

It follows a 28-week trial involving deliveries from 33 stores and two distribution centres, and is part of Tesco's work towards a "closed loop" packaging system, which eliminates as much plastic as possible and sees what remains reused or collected and recycled, so none goes to landfill.

"We're looking for ways to reduce the amount of plastic we use," said Tesco quality director Sarah Bradbury. "We know it's an important issue for customers, colleagues and our business and we know we have to do more,"

"Removing carrier bags from our online shopping is one of the many ways we are making changes to help customers reduce their use of plastic. Right now, we're reviewing all our packaging, including plastic, looking to remove where possible.

"Where it's not right to remove we will reduce, help customers reuse and ensure all packaging can be recycled. Our scale means a simple, straightforward change can have such a big impact."

The supermarket said that by the end of the year, its work on plastic would have seen the "hardest to recycle materials" removed from its own-brand packaging. As a result, 570 more products now have widely recyclable packaging, and around 3,000 tonnes of hard-to-recycle plastics have been removed.