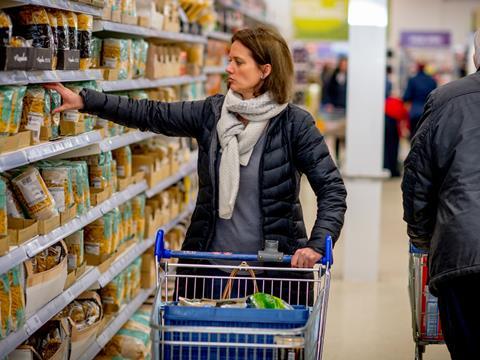 Tesco has announced plans to slash the number of suppliers it works with, in a dramatic new phase of its Project Reset strategy.

The move, which was announced to suppliers at Tesco's IGD briefing last week and is being billed as a 'Sourcing Reset', will see Tesco conduct a sweeping review of its entire supplier base over the next two years.

The retailer told The Grocer it would be conducting a "transparent and structured" process. It is understood it will look at all elements of its "supplier partner capability", though it stressed both large and small suppliers would have an opportunity to work with the retailer as the programme went ahead.
One leading supplier warned manufacturers were facing a "tsunami" of change as Tesco looked to rely more on selected, long-term partners.

Project Reset was introduced by Tesco CEO Dave Lewis in 2015 as a key part of the then struggling supermarket's fightback plans, as he set out to reduce Tesco's overstocked range by 20% to 30%.

It has since had three phases, including a move to take out almost a quarter of SKUs in its convenience stores.
'Corrupted' forecast files cause panic for suppliers
Tesco has been forced to apologise to suppliers after a computer glitch left them reeling over a potentially "disastrous" loss in orders.
The retailer is about to carry out a 'space swap' reducing many products in its household products, health and beauty and baby ranges. This will come into effect in the next few weeks in Tesco's larger stores.
Suppliers received emails this week with their new forecasts, but Tesco said many of the files were "corrupted" resulting in suppliers receiving the wrong forecasts suggesting more "significant impacts" than it envisaged.
One supplier told The Grocer he had been "devastated" to see that 30% of his products were to be delisted. The supplier said: "If that is true it would be a disaster. I hope this is a mistake and not just a sign of what is to come."
Tesco said revised forecasts would be sent out this week.
But whereas Project Reset has previously targeted a more streamlined range, the latest phase is aimed at cutting the number of supplier partners and building up mutually beneficial long-term partnerships with key companies.

"This is the reset of the suppliers themselves. What we are looking at is a supplier cull, which will be methodical, with a science base, and in the long run it will probably turn out to be the right thing to do," said one leading supplier source.
"Tesco have said they want to rationalise their supplier base. There will be some winners but there will also be a lot of losers. We will look back at future IGD events and say what they did was right. But there will be a lot less of us in the audience."

The source added: "The people who are left in will have longer-term relationships, but with less SKUs and Tesco will be more reliant of the suppliers that are left. You could argue that that is a change for good but only if you are one of the ones that are left."Tesco's review will look at data such as volume growth and brands' investment, plus the number of SKUs.

Another senior supplier source said: "In general I think a lot of suppliers are burying their heads in the sand about what is to come. There is a tsunami coming and I don't think that most suppliers are getting themselves ready for it."

"What was said is that clearly they have fewer people now in their buying teams and they are not going to be able to afford all suppliers the same accesses and they need to look at more efficient ways of interfacing. I think there a lot of effiency to be gained, altough the future will be more difficult for smaller suppliers. Smaller brands will find it harder to get airtime."
It is understood George Wright, Tesco commercial director, told suppliers 80% of its fresh produce already came from just 12 suppliers.

One managing director said he welcomed Tesco's move to concentrate on fewer, longer-term relationships with key suppliers. "We have to realise that the way the industry is going there are going to be rationalised ranges and that there will be rationalising of suppliers. Yes, there are going to be winners and losers but though it's tough if you end up on the outside, I think it's the only way forward."
A Tesco spokeswoman said: "We are committed to strong and open partnerships with our suppliers, building long-term relationships so that we can serve our customers better, and grow together as a result. As we review our partnerships, we see an opportunity to build on our work of recent years, and grow even further with those suppliers who share our customer focus and vision for the future."