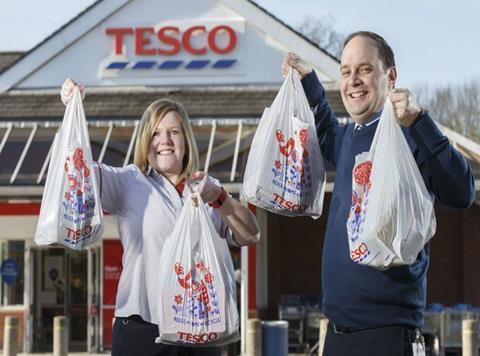 Tesco could phase out single-use 5p plastic carrier bags, if a three-store trial proves a success.

Under the trial, being carried out at its stores in Aberdeen, Dundee and Norwich, customers wanting a plastic bag will have to purchase an 8p or 10p bag for life.

Tesco said it wanted to look at what the impact would be on stores if 5p bags were removed altogether. If the 10-week trial is successful it is believed to be considering a wider rollout of the scheme.

In October, Tesco revealed it had given out 1.5 billion fewer single-use carrier bags since the introduction of the government bag charge in England.

The supermarket recorded a 72% fall in the use of single-use plastic bags in stores on last year, and also reported a "dramatic" decline in use for online shops, with 57% of customers selecting 'bagless' deliveries.

"We are carrying out a short trial in our Norwich stores to look at the impact on bag usage if we remove single-use carrier bags," a Tesco spokeswoman confirmed.

"In these stores customers who need a bag can still buy a bag for life, which they can reuse."

Tesco said its Bags of Help, an initiative that distributes the bag levy money to community groups for their green projects, would continue in the areas affected by the trial.

So far the scheme has helped 3,500 community groups, raising more than £27m.