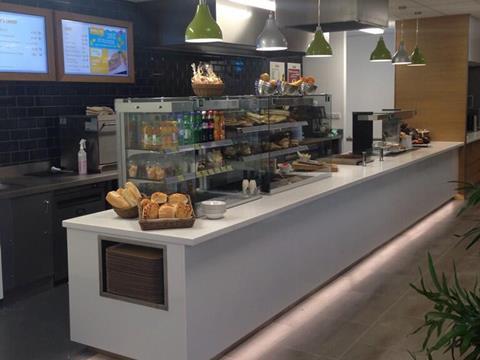 Tesco is trialling a new staffroom concept at its flagship Lincoln Extra store, including a Costa Coffee bar, digital screens, Hudl stations and a healthy menu.
The retailer said it was testing the concept with a view towards a wider potential rollout.
The room was designed for colleagues to enjoy their breaks and to be rejuvenated when they returned to the store, Tesco added.
There is speculation the scheme will soon be rolled out to 100 other stores.
The new staffroom places emphasis on fresh food prepared on site, with the majority of the ingredients purchased from the shop floor, the company said. Tesco also plans to invite customers into the staffroom during seasonal events.
The room would be "truly multichannel", Tesco added, with Hudl tablets available for staff to access the retailer's online services as well as Wi-Fi access and USB charging points for personal devices.
The room also contains digital signage displaying feeds from Tesco's Yammer tool (an internal communication service), as well as store-specific messages.
"The rollout is still under consideration as we gather colleague feedback on the new concept," said a Tesco spokeswoman.
Tesco's move comes two months after Asda staff started a petition against the retailer's plans to close staff canteens in up to 200 of its stores across the UK.
The proposals would see canteens at "older superstores" replaced with a "new food vending offer", which would provide microwave ready meals, chocolate bars, sandwiches and salads, Asda has said.
Tesco Lincoln Extra opened earlier this month, and includes new high-tech automated checkouts.
In pictures: Tesco Extra Lincoln
Image credit: NatalieDurham10/Twitter