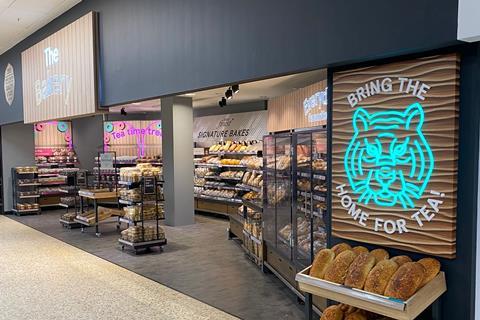 Tesco is trialling a new bakery format in some of its largest stores, as it continues to look for new ways to repurpose space and provide more in-store theatre.
It said the concept, simply called The Bakery, would showcase relaunched packaging but also include a shift towards selling more loose products, such as tiger bread loaves.
The format has been split into three sections: Tea Time Treats, Everyday Favourites and Tesco Finest Signature Bakes, with updated in-store signage.
Tesco said many of the products being sold included reformulated recipes as well as limited-edition ranges.
The six-store trial is launching at the Hatfield Extra, Edinburgh Leith, Amersham, Hayes Bull Bridge Extra, Brackley and Park Road stores.
Tesco has carried out a raft of changes to its bakery offer in the past few years. In 2016 it sold off its Euphorium Bakery business, which ran in 57 stores.
Then in 2020 the supermarket announced a big shift away from scratch baking in stores, with hundreds of outlets either scrapping it or moving to more part-baked products. Tesco said at the time it reflected a customer trend towards more continental-style bakery products.
"We're delighted to trial our new bakery offer with customers in six of our large stores," said Tesco category director for bakery James Waddy.
"The aim is to showcase new and improved products, offering customers great quality and value for all occasions."