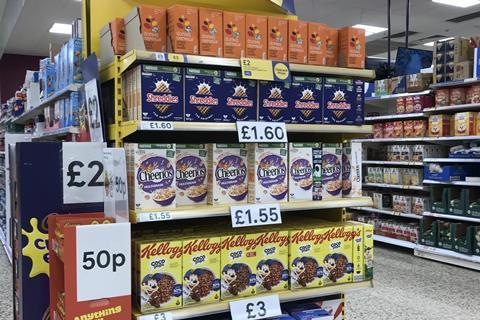 Tesco has been using negotiations on cost price inflation (CPI) to ramp up the fixed fees it receives from suppliers to support promotions, The Grocer has learned.
It marks the return of the so-called 'back margin' practice that had been largely stamped out by former Tesco boss Dave Lewis, who looked to move towards front margin and an everyday low price model.
The change comes as Tesco, along with other supermarkets, faces what has been described as a "tsunami" of CPI requests across its supply chain, amid the impact of war in Ukraine and rising commodity costs.
Sources branded the move a "clever tactic" to help keep down inflation.
Before Lewis, Tesco had 24 different ways of charging suppliers for back margin income through promotions.
Under his leadership, the focus changed to the best upfront prices for the consumer – an approach seemingly cemented by Tesco's 2018 launch of a price war with Aldi, under the tagline 'great prices every day'.
"Before Dave Lewis came in, Tesco had an extraordinary number of ways of charging suppliers," said a source. "But that completely changed and has been minimal ever since.
"However, they've obviously got a tsunami of suppliers coming to them looking to increase prices and so they have brought back margin into discussions.
"It's actually quite a clever thing to do because with the desperation of suppliers to get CPI through, many are going to accept this."
The source said Tesco was offering a sliding scale of charges on promotions, such as positioning on gondola ends, or in-aisle shelf markers.
Ged Futter, founder of The Retail Mind, said Tesco's move was "legitimate" but urged suppliers to stand firm on negotiations. "What suppliers have to do is to make sure they don't allow a retailer such as Tesco to couple CPI negotiations with requests for fees for promotions.
"It also shows how important it is to have clear supply agreements so that when it comes to next year's negotiations fees they agree don't come back to haunt them," he added.
Tesco told The Grocer it remained focused on quality, innovation and lower costs, with five forms of back margin in play, compared with 24 in 2015. "We're working with our supplier partners to navigate the pressures of inflation and deliver the best possible value for our customers," said chief product officer Ashwin Prasad.