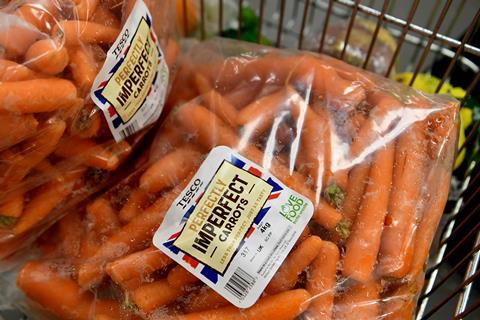 Tesco's food waste scheme Perfectly Imperfect has saved 50 million packs of fruit and vegetables so far.
The initiative, which offers customers wonky food that would otherwise be at risk of going to waste, was launched five years ago.
Since launching, the total weight of fruit and veg sold is 44,000 tonnes.
"Selling wonky fruit and veg is one way Tesco ensures the food we grow ends up feeding people, but taking steps to tackle food waste is something we can all do," said Tesco's head of food waste reduction Tony McElroy.
"This can simply mean writing a list and planning meals before going to the shops, storing things correctly or looking again at misshapen food and eating it with the knowledge it's just as good as the conventionally shaped alternative."
The initiative started off with just two products – parsnips and potatoes – but has since expanded to include a variety of other fruits and vegetables such as strawberries, apples, leeks, carrots, lettuce and cauliflowers.
Tesco works in partnership with its buyers and suppliers to curate the range, which changes seasonally depending on which products are available.
Perfectly Imperfect is just one of the supermarket's initiatives to tackle food waste. Others include its partnership with food distribution charity FareShare.
Tesco has previously announced its target to halve global food waste by 2030 by working in co-operation with suppliers, reducing food loss within its operations and supporting local communities.
A recent Wrap report showed the UK food & drink industry has made progress on food waste this year – one hundred and forty of the sector's businesses, including all major supermarkets, managed to slash annual food waste by 250,000 tonnes.
"With COP26 just days away and people increasingly thinking about ways they can make a difference, it's the perfect time to talk about food waste," McElroy added.