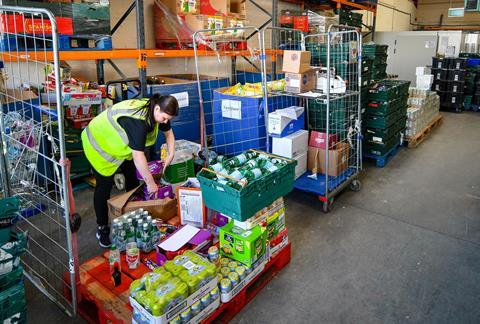 Tesco has told ministers its suppliers are wasting nearly 50 tonnes of food a week because of the worsening HGV driver shortage, The Grocer has learned.
In crisis talks with ministers today (16 June), the retailer said 48 tonnes of food across its supply chain in the last week alone had been binned, representing a huge spike compared with normal levels.
It came amid frantic talks this week between government and wholesale and logistics bosses over solutions to the driver shortage.
Leading food redistribution charity FareShare told The Grocer this week it believed up to a third of the food that would otherwise be sent to its warehouses was not getting through. It said the amount equated to 800,000 meals a week for people suffering from food poverty.
Average deliveries to FareShare would be 150-160 tonnes per day, but were currently down to about 100, the charity said.
"The food waste impact of the driver shortfall has significantly impacted our suppliers' ability to respond to our orders," a source at one supermarket told The Grocer.
"In recent weeks we have seen a 13% increase in products being wasted or placed in the bin. The government cannot just kick this down the road."
FareShare CEO Lindsay Boswell said: "As a result of the issues facing the haulage industry, we estimate that up to 30% of the food we would normally expect to receive into our warehouses on an average day is at risk of not reaching us, and therefore at risk of not reaching the vulnerable people we support.
"We are working closely with our food partners and our network to mitigate the impact this is having on FareShare's service to our charity network.
"We understand this situation has been caused by several factors outside of FareShare and our food partners' control and we recognise that we are not the only organisation to have been affected by the issues involved.
"It is frustrating that a lack of available HGV drivers is resulting in more perfectly good food going to waste, when it could be redistributed to those who need it most."
FWD CEO James Bielby said the driver shortage was leading to a repeat of the food waste crisis seen in the early days of the pandemic, when the closure of hospitality led to huge losses of edible food.
He has called on the government to agree to extend the permitted hours for drivers and to put the army on standby if that is not allowed.
"Wholesalers run very lean and efficient operations which don't allow for product to be returned to storage if drivers are unable to complete their runs within their hours," he said. "If some chilled and very short life products can't be delivered they have to be destroyed.
"As with last year's Covid product surplus, much of it is foodservice volumes which can't be easily redistributed – and even if it could there are no drivers to transport it anyway.
"The lack of action from government on short-term reliefs is kicking the can down the road."
The driver shortages have been causing havoc with wholesale and convenience supply chains, and supermarkets have increasingly been dragged into the crisis, despite their supply chain power.
Last week the Road Haulage Association said the 70,000 HGV driver black hole had reached "catastrophic levels".