Tesco says a cultural shift from shoppers is needed, while Loop and other experts say scale and execution are also issues
It promised to spark a reusable packaging revolution: the UK's biggest retailer working with an array of big brands to provide a ground-breaking alternative to single-use waste.
But after a nine-month trial in 10 stores, and a year Online, Tesco's pilot with reusable packaging platform Loop has ended. So why didn't it take off?
The pilot saw the stores gain an aisle stocked with over 50 brands, including heavyweights such as Coca-Cola and Heinz, and 35 own-label products, all in durable reusable containers. Shoppers had to pay a deposit on packaging of between 20p and £1, which was refunded via an app when they returned it to an in-store collection point. The containers were then cleaned and returned to suppliers to be refilled.
Online shoppers using the trial could either return containers to one of 2,500 DPD collection points across the UK or request that Loop collect them at a convenient time.
In a recent blog, Tesco responsible sourcing director Giles Bolton said the pilot had been "positively received" by shoppers, who bought more than 80,000 products, but added: "Work is needed to encourage a cultural and behavioural shift from customers."
A source at one of the brands involved says: "It was overambitious given the habit change they were expecting. It needed much more education of consumers and was requiring, relative to current shopping habits, a complex purchasing process.
"Sales were poor and we were left high and dry with stock."
Persuading enough customers to engage may not have been the only issue. Bolton's blog also alluded to "disruptive challenges such as covid or the current economic environment".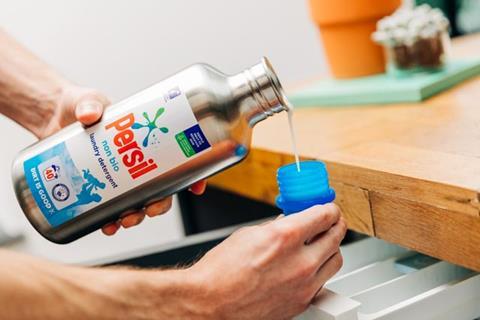 Nor will the cost of living crisis have helped the loss-making pilot. According to Loop CEO and founder Tom Szaky, it needs the scale of 1,000 stores in any given region "to reach profitability for Loop and have compelling economics for brands and retailers".
Tesco's pilot will not have been made more cost-effective, says Catherine Conway, founder of refill business Unpackaged, by using packaging designs bespoke to individual brands, rather than a standardised one.
"It means you've got to get your Pantene containers back to Pantene, your Heinz containers back to Heinz," she says.
"These reuse systems need to standardise the packaging," she says. "Otherwise, the costs are astronomical."
It's why Unpackaged is working with the Refill Coalition, consisting of M&S, Morrisons, Ocado and Waitrose, to develop standardised solutions (see box, right).
Ben Patten, CEO of reuse and return online grocery delivery service Good Club, agrees.
"We're working on a standardised approach to packaging design, because that allows you to create efficiencies and achieve ease of use throughout the consumers' interaction with the service and in the supply chain."
Good Club launched in 2018 as direct to consumer operation but is now partnering with Müller's Milk & More to facilitate a doorstep reusable packing groceries delivery service, in which the containers are also collected. Two more partnerships are soon to be announced.
Too complex?
Patten also wonders if Loop is trying to solve too much of the reusable packaging puzzle at once. "We're working with online retailers where there's already some reverse logistics capability in place, so customers can quite easily return the packaging. That's a conscious decision. We don't want to solve every problem simultaneously."
From an overall carbon life-cycle perspective, some of the reusable Loop packaging only brings savings compared with single use on the third or fourth cycle of use, and Patten also has doubts over relying on a refundable deposit to get it back.
"It's a huge assumption to decide that a £1 deposit is the correct amount," he says. Good Club is testing incentives including keeping customers informed of how much they have individually returned, using trackable containers.
Conway has a further doubt, over the choice of brands. "It's got Ecover, and Loop is absolutely in keeping with Ecover's ethos, but then you get more mainstream brands," she says.
Mainstream brands may not appeal to the early adopters the trial was most likely to attract, "who are probably super-ethical".
"Of course, we need to scale across mainstream consumers," Conway adds. "But I just wonder if a version of Loop using more eco brands might have been more successful."
According Szaky, feedback from consumers suggests the opposite. Tesco's Loop trial had a "good, healthy mix of brands," including "some mainstream performance products and also ones that you would consider more environmental".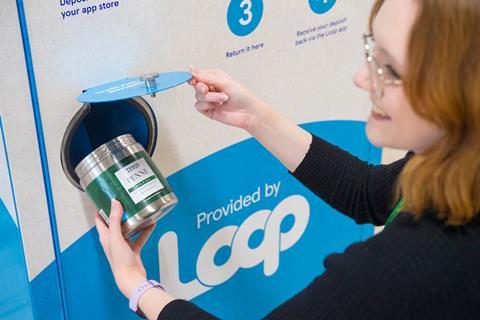 And "consumers keep telling us they want range," he says. "They want everything: for some people that means Coca-Cola. For some it means whatever eco thing they're looking for. But range is the key. That's the ticket to scale."
Indeed, Coca-Cola was among the most popular of Loop products, said Bolton's blog, along with own label essentials such as rice.
Also key to scale is giving brands the choice of using either bespoke or standardised packaging, argues Szaky.
"We do have partnerships with packaging companies that effectively become the clearing house for Loop standard packaging," he says. "A peanut butter container is a good example, or a jam container. There is no need for differentiation there.
"But there are other categories, perfume for example, where differentiation is paramount. And if there wasn't the opportunity for differentiation, brand owners may choose not to participate at all."
Carrefour, the first retailer to launch an in-store Loop pilot in December 2020, now has it in about 40 stores and is aiming for 500 by 2025, says Szaky.
It's in 75 Aeon stores in Japan, having launched in 10 last year, and Kroger, which brought Loop to the US earlier this year, has it in 25 stores, he says.
He expects Loop to be in about 100 stores in each of the three countries by the end of this year, with another sizeable US retailer signed up and due to announce plans soon.
The pilots are being well received, and where Loop has been present for over a year, packaging return rates are 80%, says Szaky.
Experts agree scale is the key to unlocking that behavioural shift from consumers. The true potential of Loop may not be clear before it scales to the magic 1,000 stores in any given region, and starts also turning a profit.
As for Tesco, the supermarket has committed to sharing more detailed learnings with industry stakeholders, and for that reason alone the pilot will not be seen as a failure.
Patten says: "They have been great pioneers in many ways. They have created a system that has worked across the value chain. While perhaps the extent of its success and appeal hasn't been what anyone would have hoped, they have provided rich learnings for everyone."
Other supermarket initiatives
Asda launched refill zones offering household brands in 2020. They are now in four stores, testing different products, brands and layouts.
Sainsbury's partnered with Ecover to launch refill stations into 20 stores in 2020.
Aldi introduced bank of dispensers containing pasta and rice to a store in April last year. As we report this week, the packaging-free trial has ended. Aldi said it was assessing findings.
M&S launched a refill aisle offering rice, pasta, cereals and nuts in its Hedge End Food Hall in 2020. It has since rolled out to 10 more stores. M&S is also part of the Refill Coalition, along with Ocado, Morrisons and Waitrose. It is working on standardising the vessels that act as dispensers, and developing a bulk home delivery solution.
Co-op worked with Unilever to introduce two reusable packaging concepts in a store in Codsall last November. The initiative has since been extended to two more sites.
Waitrose launched its first 'Waitrose Unpacked' concept store in 2019. It then rolled out to another three stores.