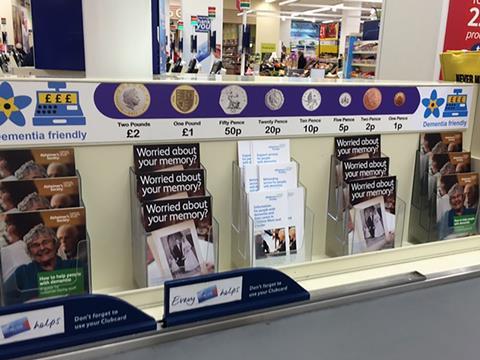 With the launch of its first dementia-friendly checkout, Tesco has shown itself ahead of the curve.
Clearly signposted in its Chester store, the checkout is equipped with visual reminders of the value of coins and advice leaflets on memory loss – all of which will surely be welcomed by customers with dementia who can find the fast pace of food shopping confusing and stressful.
It'll have little to no effect upon other customers, who can use the checkout freely.
The concept is to be welcomed not only for its compassionate understanding of the particular health needs of this small but growing group of shoppers, but also for its business sense.
Over 50s in the UK now hold 77.3%, or £1.2 trillion, of all financial wealth, according to a report published this year by Saga and the Centre for Economic and Business Research.
They're splashing a high proportion of that cash on food. ONS data shows that while the average under 30-year-old spends just £43.40 each week on groceries, those aged 50-64 spend nearly £20 more and the 65+ category more than £10 more.
Yet according to Age UK, supermarkets have so far failed to fully cater to the grey pound. Its research has shown older shoppers struggle with poor store layouts, narrow aisles, and high shelving.
Addressing many of these physical challenges could be costly and over-specialised. The average Tesco Extra stocks around 30,000 SKUs expressly with the purpose of appealing to as broad a customer base as possible, after all. It would be commercially impractical to narrow that appeal.
That is why simple, low-cost solutions such as dementia-friendly checkouts are key to how retailers might do more to cater for the 65+ market, without any disruption to their many millions of shoppers who fall below this age bracket.
The Chester store is also considering setting aside a few disabled spaces for those with dementia – another easy and practical step to take.
And addressing health concerns such as dementia shouldn't be the only focus. Clearer in-store signposting to those products of particular interest to the over-65 market could go a long way to driving incremental sales, for instance.
At the very least, retailers that pride themselves on a service-driven model must ensure the needs of elderly shoppers are on the agenda. It's good to see Tesco has already set those wheels in motion.