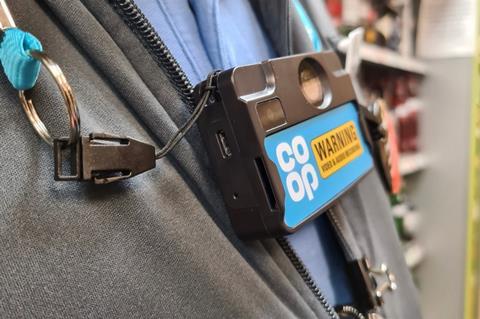 Co-op Food MD Matt Hood has said the retailer will put more pressure on police to act on shoplifting, after "leakage costs" including theft and fraud came to around £33m in the first half of 2023.
Hood said the convenience retailer had recorded 175,000 incidents of crime or antisocial behaviour in the period, a 35% increase year on year, while continuing to roll out measures to protect staff and products.
"We're continuing to test new and innovative ways to deter crime in stores that see a higher number of incidents," he said.
"This includes secure kiosks, locked doors on high-value products, dummy packaging and automated CCTV".
He said Co-op was also re-evaluating its approach to guarding and "deploying tactical teams and working closely with local police authorities".
"The Safer Colleagues, Safer Communities campaign, which was successful in changing legislation to better protect shopworkers in 2021/22, was reinstated internally in H1 based on the significant increase in incidents.
"The campaign's next step is to call for an urgent change in police response and for all forces to target repeat and prolific offenders."
Co-op Group CEO Shirine Khoury-Haq said the retailer was "campaigning for every police force to take organised criminal activity against retail stores more seriously".
"We're asking that every police and crime commissioner (PCC) sets out clear plans to tackle persistent and prolific offenders, and as we look ahead to elections in May 2024, we're asking that every candidate for a PCC commits to this and to reporting back on progress," Khoury-Haq said.
She said the Food business had spent "much of the first half planning a critical, reinvigorated Safer Colleagues, Safer Communities campaign, after we saw almost 1,000 incidents of crime or anti-social behaviour in our stores every day during half one".
The comments come in the same week that a group of the UK's biggest supermarkets and retailers – understood to include Co-op – agreed to fund a £600,000 police operation to crack down on shoplifting, dubbed Project Pegasus.
Co-op Food like-for-like sales were up 4% in the half-year trading period, as the retailer invested £20m into lower pricing across key lines in its Food stores and introduced exclusive pricing for members.
Despite the like-for-like growth in convenience stores, Food revenue was down by £0.3bn to £3.6bn, driven by the sale of the petrol forecourt business.
At group level, underlying profit swing to £43m, from a £1m loss in the same period the previous year, helped by £100m in cost savings.
Group revenue was down by £0.2bn to £5.4bn, "driven by lower revenue in the food retail business", according to the trading update.
Co-op Food continued to expand in quick commerce, with sales of £133m in the first half, including growth of its partnership with Just Eat to 1,000 stores, with a further 300 stores on other partner delivery sites.
In wholesale, including franchise, revenue increased by £40m to £719m, alongside investment in lowering wholesale pricing and the addition of 130 new stores.
A 30% colleague discount on Co-op branded products in Food stores was extended to the end of the year in a £5m investment, while a further £4m was invested in winter support payments for staff.