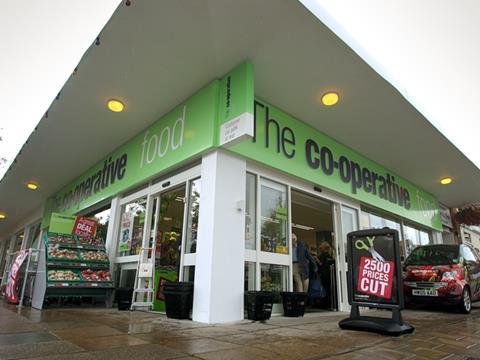 Suppliers are taking out trade credit insurance - for the first time in some cases - to protect themselves from the risk of non-payment by The Co-op Group.

Nervousness about the scale of The Co-op's borrowing and the ability of the group to pay it down in a difficult grocery retail environment has prompted some suppliers to seek insurance against the risk of bad debts.

Insurers told The Grocer it was relatively common for suppliers to take out cover for foodservice companies, but very unusual for them to insure against any of the major food retailers. The Co-op was the first big retailer to attract significant levels of demand since Somerfield, they added.

"We certainly see more demand from clients for cover on the Co-op," said Mike Clark, director of Credit Risk Solutions. "We have seen a steady stream of enquiries ever since issues at The Co-op become newsworthy. Even in recent weeks, we've had quite a few people ask about it."

Taking out trade credit insurance can prove very costly for suppliers. It is understood that the cost of cover for The Co-op can easily run into six figures depending on the size of the trading relationship.

However, some consider it to be a prudent investment. Clark said suppliers thought it was very unlikely The Co-op would fail, but wanted insurance nonetheless because the size of their trading relationships meant they would be heavily exposed if it did.

One supplier who had taken out cover told The Grocer it wanted to minimise the risk.

"I don't think The Co-op will go bust, but there's a question mark over its future and we thought it was prudent to cover ourselves," said the supplier. "It is the first time we've ever bought trade credit insurance."

The Co-op conceded that its debt levels were too high, but said it had a "very constructive and supportive relationship" with its syndicate banks, as well as trade credit insurers. "This relationship is strong because the banks and other important parties, including the main trade credit insurers and credit rating agencies, understand and support our strategic plans and have confidence in our executive management team to deliver them," it said.

It also said the banks were "greatly encouraged" by the positive vote for governance reform at the agm in May.

One leading insurer said it had met with The Co-op several times in recent months and was satisfied enough with the level of risk to continue offering coverage.

The mutual's debt pile has risen from £0.6bn five years ago to £1.4bn as of 4 January this year. In April, it reported a £2.5bn loss for 2013 run up mainly through losses at its bank.