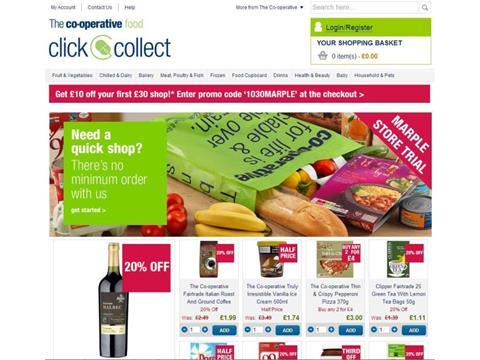 The Co-operative Group has extended its click & collect pilot to members.

The society launched the trial in November at one store in Marple, near Stockport.

The free service was initially only available to Co-op staff, but it is now inviting members who "live within a reasonable travelling distance" of the store to set up an account at the website co-opclickandcollect.co.uk.

A leaflet explains the service 'in five easy steps' and also offers members £10 off their first £30 shop between 25 February and 7 April. 'No queuing. No rushing around. Just relax and order what you need online,' it states.

Shoppers can pick up their order three hours or more after ordering. When shoppers drive to the collection point, a Co-op member of staff will bring their order out to their vehicle.

"This is a one-store trial, which is providing useful learnings for us, but the focus of our food strategy is on improving and extending our existing store estate," a spokeswoman for The Co-op Group said.

Morrisons last week revealed it would trial an "innovative" click & collect offer later this year, but refused to provide any further details about the plans.