Co-op is bringing Christmas on the go with a preview of its NPD and redesigns for festive sandwiches and snacking this year.
From traditional favourites to innovative twists, this range offers classic pigs in blanket crisps and a cheese lover's brie & cranberry sandwich, but also features a brand-new currywurst-style 'Irresistible' Christmas market sandwich and turkey tikka masala crisps.
'Tis the season of giving, and Co-op has partnered with children's charity Barnardo's, aiming to raise £5m to support young people.
Sandwiches
Irresistible Christmas Market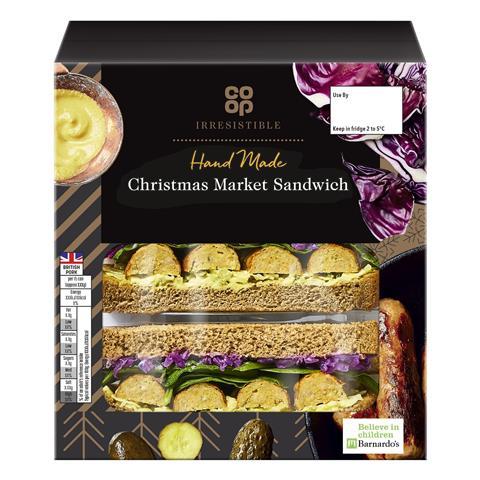 £3.85/255g
Remember those gigantic sausages that are the highlight of any town's Christmas market? Co-op has decided there's no need to brave the throngs of tourists and instead offers this currywurst-style pork sausage sandwich. From the top-tier Irresistible range, it comes with cheddar cheese, sauerkraut, tangy mustard mayo and gherkins on dark rye bread. Frohe Weihnachten (that's 'merry Christmas' in German).
Pigs Under Blankets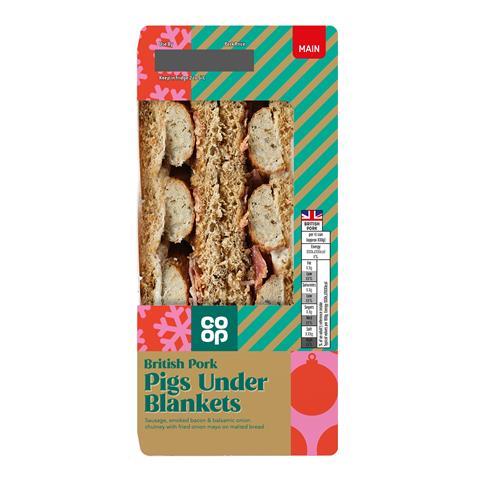 £3.25
Retailers are always trying to capitalise on the enduring popularity of pigs in blankets. This time, Co-op has gone with pigs under blankets, made with pork sausage, mayonnaise, balsamic onion chutney, smoked bacon and fried onions on malted bread.
Turkey Feast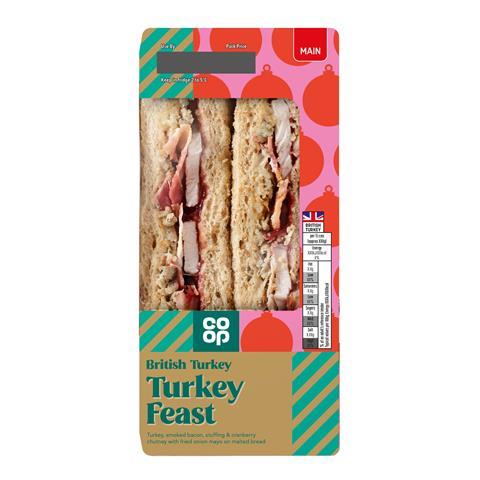 £3.25
This is a returning favourite with new festive packaging. It features turkey, sage & onion stuffing, smoky bacon, onion & stock mayonnaise, and cranberry sauce with spinach in malted bread.
Brie & Cranberry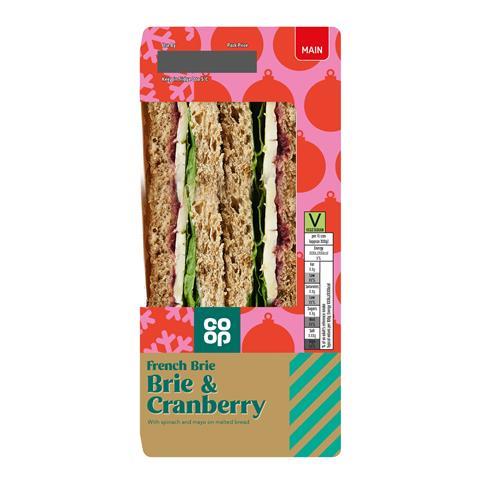 £3.25
Co-op is hoping to win over vegetarians with a brie cheese sarnie with cranberry chutney, seasoned mayonnaise and spinach on malted bread.
Boxing Day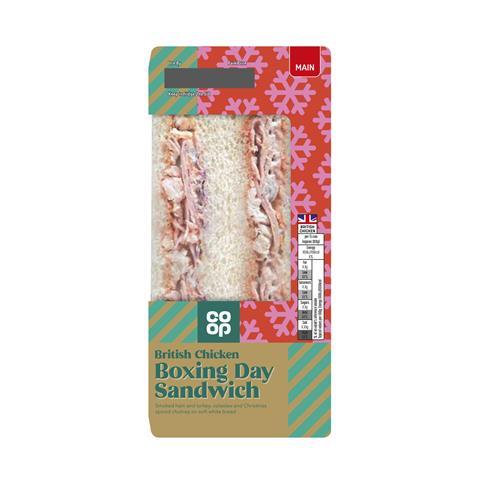 £3.25
Featuring all the trimmings, this is reminiscent of Ross's Thanksgiving leftover sandwich from Friends. However, instead of turkey, it contains roast shredded chicken, creamy cheddar, coleslaw, ham and spiced chutney on white bread. It's also missing a moist maker.
Snacking
Chicken & Stuffing Bites
£1.25/72g
Move over Mattessons. Co-op is aiming to commandeer the protein snacking market with its cooked British chicken bites in a sage and onion seasoning with roasted carrot, onion and parsnip.
Festive Stuffing Scotch Egg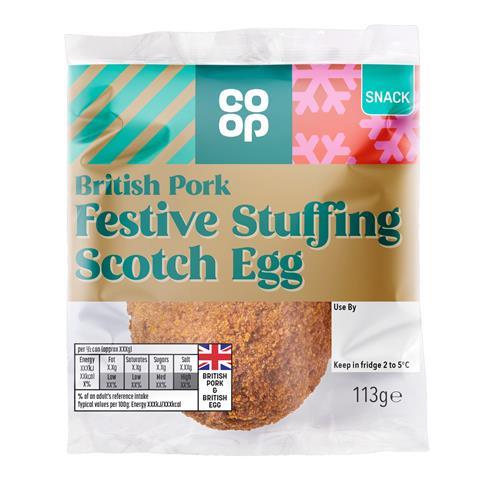 £1.35/113g
Free-range egg wrapped in British pork sausage meat made with outdoor-bred pork, along with sage and onion stuffing in a golden oat and breadcrumb coating.
Festive Sausage Roll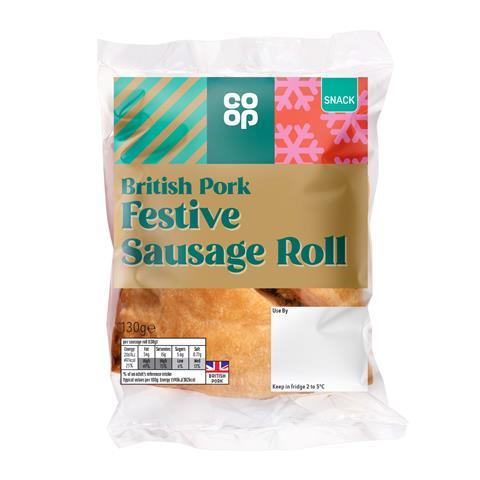 £1.35/100g
Who said cranberry sauce was just for brie and turkey? Co-op has used it to accent sausage on its British pork rolls with cranberry sauce and sweetened dried cranberries in a baked pastry.
Irresistible Pigs in Blankets Crisps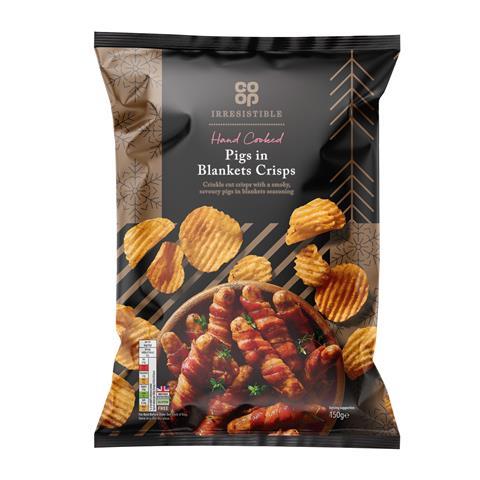 £1.50/150g
The pigs in blanket innovations know no bounds. These crinkle-cut potato crisps feature a sausage and bacon flavour seasoning.
Irresistible Ultimate Roast Potato Crisps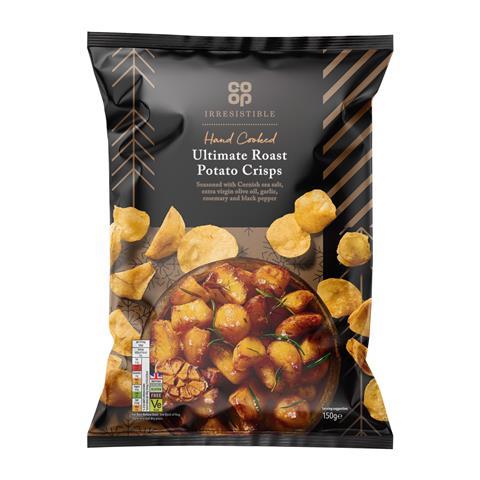 £1.50/150g
Potato crisps with a sea salt, extra virgin olive oil, garlic, rosemary and black pepper flavour seasoning.
Irresistible Turkey Tikka Masala Crisps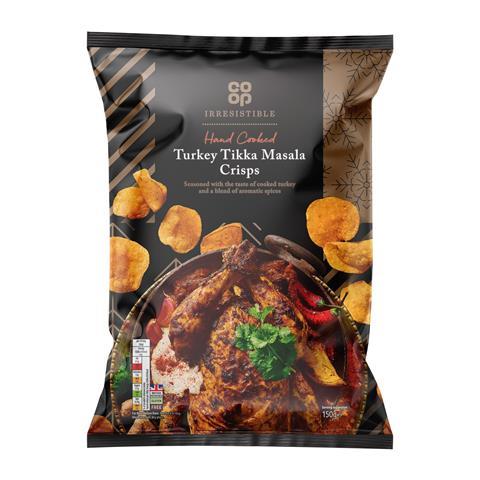 £1.50/150g
Hand-cooked British potatoes, seasoned with real cooked turkey and aromatic ground spices, to create the taste of a Boxing Day turkey curry.