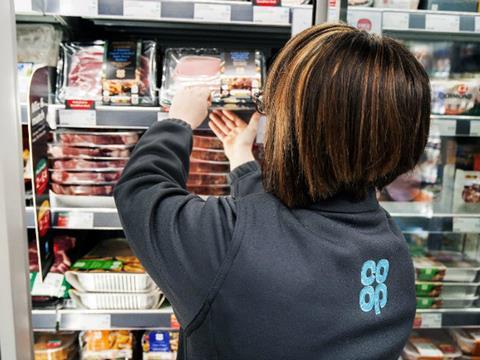 A casual observer of today's grocery market share figures from Kantar would conclude that the Co-op is struggling - and would offer a simple demonstration of why it is so keen to finalise its £143m takeover of Nisa.
Sales at the Co-op were down 2.5% for the 12 weeks to 8 October, with its market share falling from 6.5% to 6.2%. It was the only one of the top 10 leading grocery retailers to suffer a fall in sales during the period. And with inflation flattering other supermarkets the top line loss looks even worse.
However, it must be pointed out that these figures have been significantly impacted by the loss of the 300 stores it sold to McColl's last year. With every month that passes another chunk of stores and their sales has migrated to McColl's. In the process first Aldi and then Lidl have overtaken The Co-op (though to be fair the sales growth of the discounters has also been a factor).
A much better indicator of the group's performance is the fact that, as per the latest results published last month, the Co-op has enjoyed 14 successive periods of like-for-like food sales growth since the turnaround, started by Richard Pennycook and carried on by Steve Murrells, began bearing fruit.
Where the Kantar figures are relevant, however, is that they highlight the Co-op's need to grow scale. Aldi is racing away from it terms of market share, up from 6.2% to 6.8%, while Lidl has jumped from 4.6% to 5.2% compared with a year ago.
CEO Murrells is keenly aware of the need to boost its buying power so it can keep a lid on inflation and remain competitive in the face of the growing influence of the discounters on the convenience sector. And it needs to keep growing to convince suppliers it is still a big hitter.
The Nisa deal would therefore make a lot of sense for the Co-op. Like Morrisons, it already has wholesaling credentials through its group buying arrangement with the UK's other, smaller co-operative societies, albeit that it has never developed a symbol /franchise offer before.
In the process it can leverage not only its range through new outlets but also its distribution network, creating new efficiencies.
But there are still big question marks hanging over the deal. The key one, of course, is whether Nisa members think it makes sense for them. And they are a suspicious bunch so a deal is far from done whatever the Co-op thinks. And the CMA may also have something to say about the deal too.